10/22 BOLT STOP MODIFICATION
It is easy to make the bolt stop on the 10/22 hold the bolt back, but it is a pain to make it let the bolt go forward again. This simple fix will make it much easier to release the bolt, just tug back and let it go!
The only tools you will need for this are a screwdriver to remove the action from the stock and a small file. A vice will help, but is not needed.
Make sure the gun is unloaded before you start any gunsmithing!!!
The simple directions are to remove the bolt stop, clamp it in a vice to hold it while you work on it, remove the "hump" section shown in the pic with a small file, clean up the edges and put it all back together.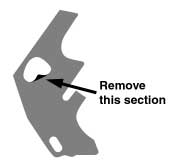 The trigger assembly is simple, if you have the NRA Firearms Assembly book from the library and the exploded diagram in the owners manual they will show the steps more clearly than i can explain here. It is simple, but in writing it sounds hard. Dammit Jim, I'm a mechanic, not an author.
Fixer
---
Return to The Alpha Group Web Page
---

Send Warlord E-mail.
Address:

All materials at this site not otherwise credited are Copyright © 1996, 1997, 1998, 1999, 2000 Trip Williams. All rights reserved. May be reproduced for personal use only. Use of any material contained herein is subject to stated terms or written permission.