*Glock Grip Reduction*


By: Skip
02 October 2003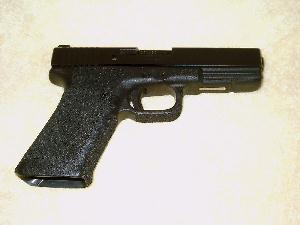 No matter how good the handgun, or how advanced the design if the gun doesnít fit in your hand it is no good. I liked the Glock hand gun. It is simple to take down and clean and shoots great. There are a lot of things that I like about the Glock but itís grip is to big for my hands.
I saw an add in American Handgun for "Grip reduction and Stippling" for Glock handguns. So I called Custom Arms Co. and talked to Peter Carber, the owner and head gunsmith. He told me about his new procedure to reduce the size of Glock grips and add the stippling. After visiting his web site and a few more phone calls,(Peter himself answered) I downloaded the order form filled it out and sent in my Glock 21. Be sure to insure you gun when you send it.
The results were better than I dared to hope for. The Glock 21 fits my hand great and with the stippling it stays put even during rapid fire. As you can see I also had the trigger guard rounded and stippled. Custom Arms Co. offers many services and I am very happy with the work they did for me. You will often see guns in the American Handgun that Peter Carber has worked on.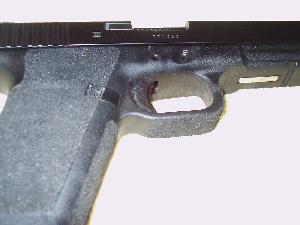 If you own a Glock or are thinking about getting one and the size of the grip is a problem for you I recommend that you give Custom Arms Co. a look. The web site is www.customarms.com.
Skip
---
www.alpharubicon.com
All materials at this site not otherwise credited are Copyright © 1996 - 2003 Trip Williams. All rights reserved. May be reproduced for personal use only. Use of any material contained herein is subject to stated terms or written permission.