*Leatherman's Secret Compartments*


By: Twoshotc
2 September 2007

On of the advantages of having adult children is having grandchildren, and getting birthday presents that you actually want. My son gave me a Leatherman Wave multi-tool to replace the off brands ones that I had. I really like the tools and have found it very useful. I know that many folks use the Leatherman tools as important part of their survival kits. With a few additions, I could see that the Wave model would be a tool that I would have on my belt anytime that I venture into the woods.

I got a Suunto oil-filled button size compass. I put a couple of small cable ties on the flap of the holster so I could slip the compass on and off. I doubt if I could get a good direction with the compass too close to the multi-tool, so it can be removed from the holster when needed.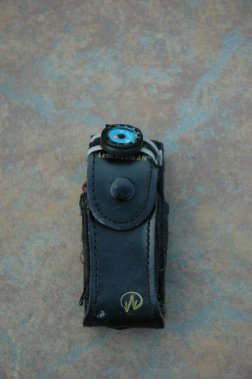 I wanted to attach a Scout striker and some type of light. I began taking a close look at the holster. I found that the sides were made of elastic material and there was a double thickness of the elastic material on each side of the holster. The elastic was open at the top and also at the bottom. A few minutes with a needle and heavy thread closed the opening at the bottom. The Striker went in one side and the light went into the other.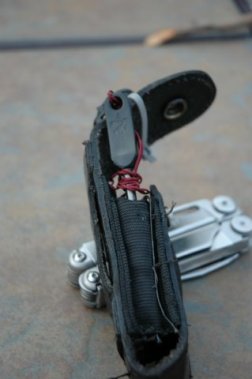 &nbsp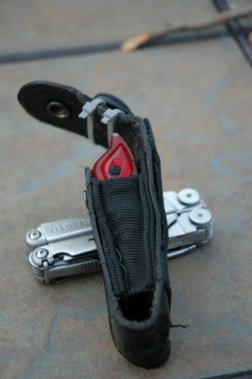 I always like to have something to sharpen my knife blades. You cannot sharpen the Leatherman knife blades with the files in the tool. This is an oversight in design for certain. I found that the inside back of the holster also was a secret compartment. It was as wide as the tool and just as deep. I could easily slip a diamond sharpener into this pocket.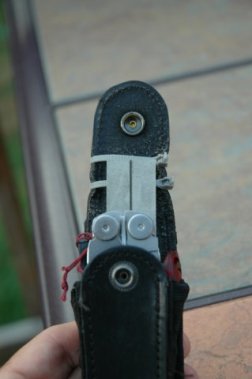 Now I have a Leatherman with a knife sharpener, a striker, a led light and a compass all in the same holster. I do not wear the Leatherman on my belt all the time. Just keeping my pants up with the concealed Ruger sp 101 is hard enough for a fat guy. I do have a SAK with a lanyard that has some tools attached that I always have in my pocket. But that is another article. I will have the Leatherman on my person when I venture off the pavement.
Take a look and see if you can find the secret pockets in the Leatherman holster.
Twoshotc
---
www.alpharubicon.com
All materials at this site not otherwise credited are Copyright © 1996 - 2007 Trip Williams. All rights reserved. May be reproduced for personal use only. Use of any material contained herein is subject to stated terms or written permission.