Making a Tactical Sling
By GunnDan
The "tactical" carry of a weapon may look "cool", but it's totally practical. Potential adversaries, and those being protected, know you are ready to act in a second. I tend to think of it as the "guitar carry", since I'm a guitar player, or the "Israeli way", after I visited there. Slung behind the back, it looks 'nonchalant'. It's natural and comfortable -- critical in situations where you don't know when or where you may need to defend yourself. This is simply a practical method of carrying a rifle on a sling but at the ready (slung port arms, I'd call it), especially with pistol-gripped rifles. It keeps the muzzle controllable by the left hand (or right if you're a lefty) for safety as well as down when it rains. This is just a simple way of converting your rifle to be carried with the receiver UP and trigger at the ready.
This is not rocket-science, and many of you know this stuff, but I thought I'd put together a Pictorial How-To for those who want to do it and always wondered how.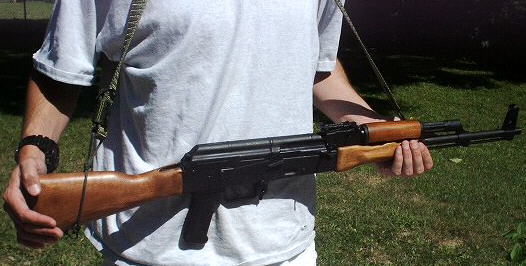 If locked and loaded, it would take less than a second to aquire and fire from the shoulder from this position, OR I could move my right hand inside the sling and 'stow' it behind my back to use both hands in assistance.

Ingredients You'll need 2 feet of parachute cord and a 1 inch piece of PLASTIC tubing, some water, and a flame source (lighter).

It's Easy!

I'm using my SAR-1 and it's "issue" sling as an example. Since the AK has a left-side-mounted slot for the forward connection, I didn't need to use any paracord on the front. For an AR, or if you're a lefty, just repeat the process for the front sling-swivel (around the barrel, not the gas tube!).
Soak the 2 foot paracord piece in water
for a minute. This will allow tight knots and
it will contract as it dries for a good fit.
Run the 1" tube through the paracord
Tie a half-hitch knot 2inches from the plastic tube.


Run the cord with one loop through the
sling swivel, then CINCH it down tight
between the halfhitch knot and the the swivel.
Tie a tight square knot to the "outside"
of the sling swivel (left side if you're right-handed,
so it doesnt' bump your chin)

Cut off the excess cord, then burn the
ends until the melt solid.

Final Result
GunnDan - dray2@kc.rr.com
---
All materials at this site not otherwise credited are Copyright © 1996-2001 Trip Williams. All rights reserved. May be reproduced for personal use only. Use of any material contained herein is subject to stated terms or written permission.