*About Hibiclens*
By: TooshieGalore
21 March 2015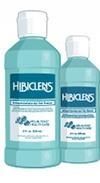 If bird flu, swine flu, ebola or even the routine winter germ-rally really gets ramped up, you might need a good antiseptic, antimicrobial, soap. Dial is good but CHG is best.
Chlorohexidine Gluconate (CHG) is a pharmaceutical grade antiseptic skin cleanser. It's a surgical scrub. It's been around for 50 years or so, but most people don't know about it. The most common medical name-brand is "Hibiclens". It's a unique soap because it bonds to the skin, creating an invisible barrier and can keep killing microorganisms for up to 24 hours after washing. It's like an invisible glove. Use it like any other handsoap in the bathroom and kitchen but keep it out of your eyes, ears and mouth – in other words, don't wash your face with it.
It's effective against gram positive and gram negative bacteria, fungus and virus including influenza, swine flu, and herpes. I like that it doesn't dry out my hands or irritate my sensitive skin no matter how much I wash them, but... it doesn't smell too great.
It comes in two forms – medical grade and veterinary grade. The medical grade is 4% while the veterinary stuff is 2% so look closely at your label to see what you are buying. It normally comes in 4oz or 8oz bottles when purchased in retail stores or in gallons at Amazon or vet stores. It comes in pink and blue bottles. Pink bottles are used as surgical scrub but I don't know if it's any stronger than 4%. Blue bottles is normally what you find retail.
I have found it at my Wal-Mart, CVS, Walgreens, Meijer, Albertsons, and several janitorial cleaning supply houses. I found the veterinary grade at Tractor Supply and Southern States.
I like the vet grade soap, I think it's better than Dial soap for everyday use. My Lysol, No-Touch soap dispenser says in several places to "Replace Only With Lysol Healthy Touch Hand Soap Refill" but yep, I fill it with Hibiclens. When I buy Hibiclens down the street (no shipping) it's the same price as a gallon of Dial. However, if the SHTF, I'm certain I'd want 4% solution.
I've purchased this: $62 at Amazon for 1 gallon, ($.48 per oz) free shipping:
http://www.amazon.com/Hibiclens-anti-microbial-skin-cleanser-Gallon/dp/B000GCIC8E/ref=sr_1_2?s=hpc&ie=UTF8&qid=1413225377&sr=1-2&keywords=Hibiclens+anti-microbial+skin+cleanser%2C+1+Gallon
I save my empty soap hand-pump bottles and refill them with Hibiclens. Or, you can buy Hibiclens on Amazon in the 16oz hand-pump dispenser for $20 ($1.25 per oz)
http://www.amazon.com/Molnlycke-Health-Hibiclens-Antiseptic-Includes/dp/B0015TI336/ref=sr_1_cc_1?s=aps&ie=UTF8&qid=1413225417&sr=1-1-catcorr&keywords=Molnlycke+Health+Care+Hibiclens+Liquid+Antiseptic+16+Oz+Includes+Hand+Pump
I've purchased this: $85 at Amazon for 50 15ml-packets, free shipping. I thought I might want a portable option:
http://www.amazon.com/Hibiclens-Antiseptic-Skin-Cleanser-Packets/dp/B000V89QM4/ref=sr_1_cc_1?s=aps&ie=UTF8&qid=1413225324&sr=1-1-catcorr&keywords=Hibiclens+Antiseptic+Skin+Cleanser%2C+15+mL+Packets%2C+50%2FBx
Also found this $13.99 plus $8.99 shipping at Amazon for 1 gallon of vet grade solution:
http://www.amazon.com/Bimeda-Inc-Chlorhexidine-Solution-gallon/dp/B00061MU9W/ref=sr_1_1?s=pet-supplies&ie=UTF8&qid=1413225090&sr=1-1&keywords=Chlorhexidine+Solution+gallon
But, don't get suckered into thinking that veterinary Hibiclens is always an economic savings: At $25 at Amazon, this 4% Shampoo For Dogs, Cats & Horses, for 16 oz. nets out to $1.56 per oz.
http://www.amazon.com/Chlorhexidine-Shampoo-Dogs-Cats-Horses/dp/B003LREDXE/ref=sr_1_1?s=pet-supplies&ie=UTF8&qid=1413225467&sr=1-1&keywords=Chlorhexidine+4%25+Shampoo+For+Dogs%2C+Cats+%26+Horses%2C+16+oz
Here is a $1 off coupon toward the purchase of a 8oz bottle:
http://www.hibiclens.com/retail/for/athletes
TooshieGalore
---
This Article Was Proudly Formatted For The AlphaRubicon Website By: Vikis



www.alpharubicon.com
All materials at this site not otherwise credited are Copyright &copy 1996 - 2015 Trip Williams. All rights reserved. May be reproduced for personal use only. Use of any material contained herein is subject to stated terms or written permission.