*Air Conditioner Stand*
By: TexasOk
29 June 2018
Here is a project that can save you a service call or prevent damage to your outside a/c unit.
The reason for this is to get the unit off the ground where the coils will remain cleaner and not be directly exposed to dirt and grass clippings from a lawn mower or a weed eater.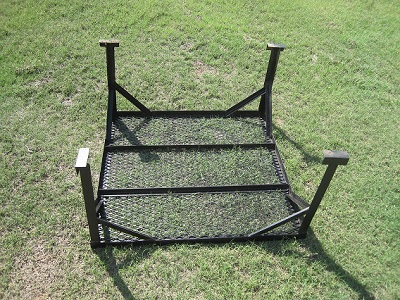 I built this one by welding up a 3' x 3' steel frame and then cut 4 legs 18" long and welded a 4" piece on the end of each leg for a more stable base support using steel 1-1/2" x 1-1/2" x 1/8" angle iron. Fitted a 3' X 3' piece of flat carbon steel expanded metal into the frame. Cut the 2 center supports and corner braces out of 1" X 1" X 1/8" angle iron.
Welded it all into place and gave it a coat of rust prevention outdoor metal spray paint.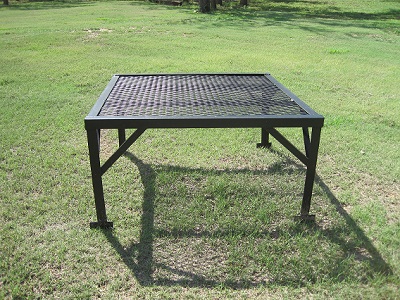 Sit the stand on cement bricks or blocks and level it.
Set your A/C unit on it and your done.
Cost of materials around $60
TexasOk
---
This Article Was Proudly Formatted For The AlphaRubicon Website By: wmerrin



www.alpharubicon.com
All materials at this site not otherwise credited are Copyright &copy 1996 - 2018 Trip Williams. All rights reserved. May be reproduced for personal use only. Use of any material contained herein is subject to stated terms or written permission.