*Alpha Tents From our Readers!*


By: Warlord
26 June 2012

The Alpha Tent has really taken off in popularity... below are examples of Alpha Tents sent in to us from other readers from "Everywhere".. I'll try to keep this page updated when there's time.
---
I finally made my alpha tent!
It took a lot of measuring to get the poles the right length and I couldn't find anything to act in place of the wire nuts (can't get those kind here in the UK). Eventually, I wrapped elastic bands round the ferrule at each end of the poles to stop the pole running through the corner grommets, then parked the 10 cm I'd taken off a pole back in the ferrule beneath the grommet, so that it could stick into the ground to fix the tent in place.
The picture I've attached is of config 1, which sits quite high and has more room, with poles (ok, sticks) under the guying points/porches to give tension. I can also set it in config 2 without the guying points, by sticking the poles in the ground further out, which gives the tent a lower profile and lets the sides sit flush with the ground (where they can be pegged) and is straight sided in plan (config 1 has the sides bowing in due to the tension on the poles, hence the need for guying porches).
Thanks for the inspiration! It was an interesting little experiment.
When there's no-one else to blame...
CAPTAIN SCAPEGOAT!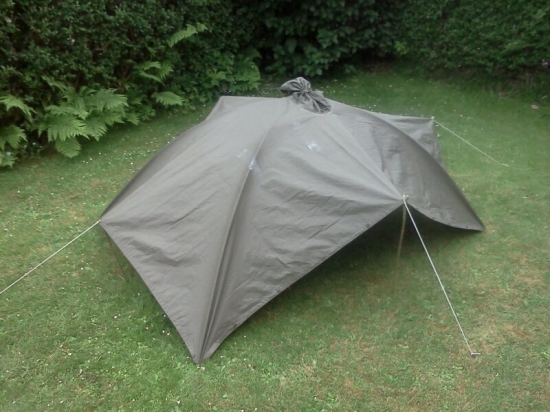 ---
Warlord
---
www.alpharubicon.com
All materials at this site not otherwise credited are Copyright &copy 1996 - 2012 Trip Williams. All rights reserved. May be reproduced for personal use only. Use of any material contained herein is subject to stated terms or written permission.