*Test - One Week Of Nothing But Beans And Rice*


First Attempt
By: Thoth8
01 March 2011

I started out to test myself to see what itís like to just eat rice and beans (yes I know itís not really a complete protein) with no seasonings at first, just plain Jane. Well that was the plan anyway.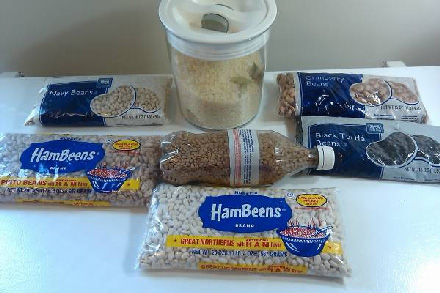 We have:
Navy beans
Pinto Beans
Cranberry Beans
Red Beans (not shown)
Black Beans
Lentils (in the Coke bottle)
White rice
My plan was to eat a different bean every day and on the last day I planned to mix all the beans together in a bean soup. Things that needed to be soaked were soaked at night time on the day before. I then used the water to water the house plants. Then I refilled the crock pot and cooked the beans.
Day 1: Bland and kind of boring.

Day 2: Kind of already dreading it. (Food aversion starting to kick in after 5th time eating it ). At dinner time I added beef bouillon cubes.

Day 3: Starting to think "This is stupid and no point.". Kind of dreading eating. Starting to put off meals till I get really hungry. I started just eating as quick as I could just to get it over with.

Day 4: This is where it started to really go downhill (10th time in a row). Adding all kinds of spices to the mix. Starting to really dread meal time. Wife is noticing a change in my behavior ( I'm getting grouchy). Noticed a lot more energy. Could be that Iím just ticked off all the time now.

Day 5: I skipped breakfast. Just don't really want to eat. I go into the kitchen and then the "bean smell" hits me. Around dinner time an onion committed suicide on my chopping board and all the pieces jumped into my beans.

Day 6: Angry and rationalizing my way out. I went into the pantry many times and said to myself, "It will not really be like this, so the test is all crap.". McDonald's for breakfast. I quit. I have lots of food put away so I donít have to do this crap. If there was no food in the world, then fine. But as of right now? No way! I don't mind adding beans and rice to my food. But every day just beans and rice? That's just not going to happen.
What did I learn from this?
Most of the time I ate separately from the wife as I did not want to smell her food. In fact I was getting a bit resentful of her.
Now I know. I have developed certain eating habits and, when they get interrupted, I know I will have a mental change even on a full belly. What will others have when they are starving?
I had my gallbladder removed about a year ago, so I might be different from others. Grease and oils have an "exlax" effect without the gallbladder to meter the bile from the liver.
I seemed to poop less often but it was more, ummm, consolidated and a feeling of being bloated. Had some gas but it passed, lol. Other than that, no problems for the few short days I did it.
Things that could have been done better?
I should have been checking my blood sugar and increased my liquid intake.
I should have used spices from the start.
I should have paid close attention to how my body was reacting.
I should have checked my weight before and after the experiment.
I should have used the Kill-A-Watt meter to do an energy audit on this.
:-)
I might try this again one day with full spices and adding things to the beans and rice to make it the best that I can.
But... Don't think that just because you have rice and beans you're good to go (at least not in my case). This just goes to prove... ďStore what you eatĒ.
Thoth8
---
www.alpharubicon.com
All materials at this site not otherwise credited are Copyright © 1996 - 2011 Trip Williams. All rights reserved. May be reproduced for personal use only. Use of any material contained herein is subject to stated terms or written permission.