*Updated ChiCom AK Chest Pouch With Mods*


By: Spike
02 October 2007

Yes, I could have spent upwards of $100 on a MAV Vest and pouches, but the fact is not everyone has the money for top of the line gear. Personally I believe in the "beans to bullets ratio" and would rather spend as little as possible on my chest rig and be able to expand upon other much needed items. As I went looking for affordable AK chest rig options, I stumbled upon this from Galati International.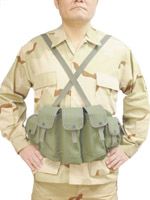 Great user friendly features. Made of iron-tough PVC and polyester to last thru loads of heavy-duty actions. This excellent chest harness comes with three main pockets comfortably holding one AK or similar sized mags each. In addition, there are 4 utility pockets. Each pouch/pocket features quick-open pulls, drain holes, snap and Velcro closure. Fully adjustable with waist and shoulder strap.
After shipping the price was right around $20. It arrived extremely quickly and I couldn't wait to check it out. In this case, don't let the price fool you...this is a good piece of gear! The pvc they speak of is extremely durable and the snap & velcro enclosures really do the job. But as with all gear, I had to see how strong the snaps really were. In one of the following pictures, you see the right pocket is without a snap. It took me a lot of doing (more than would normally occur) but I finally got the snap to fail. This made me feel good about my new rig.
Notice in the description it says it will hold 3 mags. This IS NOT true!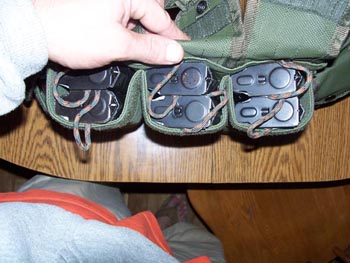 It's a tight fit in the center pouch, but that's starting to loosen up a bit. Currently the mag pulls are also taking up room, but they're going to be modified in another way (takeoff on DFW's mag pull article) and that will utilize less room
The shoulder straps have a bit to be desired as they were sewn in place on the front and looped through the D-rings in the back. I like versatility in my gear and decided to cut them and add buckles.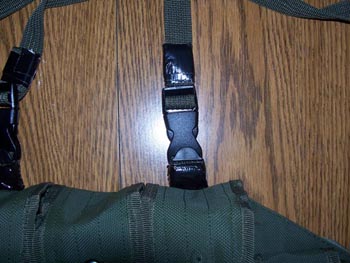 ( The straps have the ability to dig in to my shoulders after long term use and soon I'll be adding shoulder pads (found here) and other mods.)
As with the original ChiCom chest rig design, the strap across the back needs to be tied. I've always hated this and opted to cut the strap down and replace it with a bit of rucksack strap and a buckle like with the shoulder straps.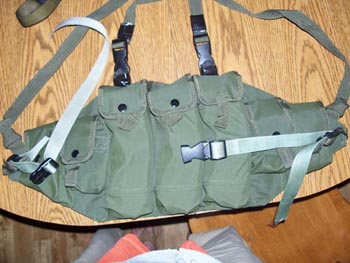 (Notice that snap I got to fail after a lot of trying. It's getting replaced right now.)
The four pouches (two on each side) have plenty of room for just about anything you need. On the right side (left as I'm wearing it), the first pouch next to the mag pouch holds a FRS radio. And one outside of that holds 2 battle dressings and a pair of vinyl gloves.
The left side (my right as I'm wearing it) is still being debated as far as what will go in there. Currently the inner small pouch holds a pack of smokes and a lighter with the outter pouch holding my cellphone (like it would work in SHTF or worse situation). What I like the that the options for what it's holding are virtually endless!
Possible future additions are velcro for nametags, bloodtype, etc, pocket in back to holds maps, ALICE first aid pouches sewn to the front for more storage and so on. I'm still deciding, but as is this provides the basics for utilizing my AK-47.
So if you're on a tight budget, don't be afraid to order this piece of gear. It's cheap in price but durable in materials. And if you have to ditch it or you intend on caching it, the price won't cause you to cry if it's not recovered.
Enjoy!
Spike
---
www.alpharubicon.com
All materials at this site not otherwise credited are Copyright © 1996 - 2007 Trip Williams. All rights reserved. May be reproduced for personal use only. Use of any material contained herein is subject to stated terms or written permission.