*Get The Experience*


By: Warlord
24 May 2011

WAAAaaaaayyy back when we first started "The Rubicon", Survivalists were a bit of a paranoid bunch. No one "met" other survivalists as a general rule, and if they did, some went so far as to cover their license plates on their vehicles. After covering the plates, they'd park well away from the meeting spot and then walk to the restaurant/Coffee-shop/wherever... "Meeting people" was just something you didn't do! With that massive limitation placed on the Preparedness Minded of the time, many people didn't have "Actual Experience" in Surviving Disasters. People used to basically mostly "Sit around and think about what they would do"... They'd make big plans and lists trying to think about everything they'd need to weather a bad storm or other disaster...

...At the time we were preaching something radical, "GET EXPERIENCE! Go help someone dig/cut out after a hurricane or tornado. Go help someone sand bag during a flood. Go get the experience, and then you'll know FOR SURE what *you* need!!! Many Prep-Items are common to most disasters, you need to know what they are before a disaster strikes *you*"

Slowly but surely the message caught on, Rubies started meeting and helping other Rubies in need... and suddenly *we* had the people with actual "EXPERIENCE" in dealing with disasters... Their lists and advice weren't "What they thought", they were made "From Experience"... if they said "You won't usually think of this, but you'll need XYZ during this disaster", then people knew they needed to have XYZ on-hand! ...and then soon enough those new people "Had Experience" too!

"Rubies gaining first-hand experience", and being respected for their first-hand knowledge, made other Rubies want to gain that experience also! Couple that strong motivator with the fact that Rubies weren't disappearing in droves, or being snatched up by "Them" and/or "They", and soon everyone was out meeting and helping everyone else! SOMETIMES members were even (God Forbid!) "meeting each other just for fun"!!! Some of the Hard-core paranoid issued dire warnings on the Message Boards.. "Keep on! When the Feds round you all up and stick you in a FEMA Concentration Camp, you'll wish you'd stayed under the radar!" However, due to many factors, we had MANY "Feds" as members already... they'd jump in and respond, "Hey, Wait a Minute! I'm a 'Fed', and I haven't 'rounded ANYONE up', and don't plan to!".. Others would jump in too and say things like "I work for FEMA, I don't know of any Concentration Camps!", and "We can't even get generators to disasters! How are we going to handle the logistics of rounding up people to stick them in camps in the first place, especially since no one has even THOUGHT about planning for an undertaking like that???"... Ooooops.. No FEMA camps, No 'Feds' behind every tree to harass innocent civilians, not even if they were the dreaded "Survivalist types"... Many more Members started meeting and having cook-outs, sharing experiences, supplies, and much needed help after disasters... not surprisingly, even 'The Feds' liked meeting people and making plans and gaining valuable experience.

It STILL often aggravates people new to Preparedness when someone is about to go through a disaster (or IS going through one) and doesn't appear to be paying attention to them when the new person "thinks" about what they should do to be ready for the impending disaster... but those people about to deal with a disaster, or who are in the middle of one, want to hear from other people who have "actually" been where they are now.. People who lived through it, people who saved their property, or who had power/water/food/shelter when no one else around them did.. They want to hear from "People with lots of actual experience"...

As you get more time in the Rubicon, always think about going to help other Rubies that are experiencing a disaster.. they can use the help, and *you* can use the "experience".. after you get the experience, write articles about it while it's all still fresh in your mind, and pretty soon *you* will be the person other people want to hear from when they're scared and NEED answers... not to mention that *you'll* be A LOT more realistically prepared when disaster strikes "You". Disasters won't be so mind-numbingly overwhelming or scary, because "You've seen it before, you know what to expect".

To the inexperienced, that Micro-Burst that hit me may have seemed overwhelming.. "How will I EVER get all of that cleaned up?".. But to me it was more like "I got out LIGHT compared to some disasters I've helped others with, I've cut bigger trees, and more of them, and we'll get it cleaned up just like eating an elephant... 'one bite at a time'"...

My Storm damage looks bad...
...But what's that damage when it's compared to, say, "Twist's place after Hurricane Isabel"? When I spent HOURS just cutting my way into his AREA even before the winds died down? Even before FEMA could even BEGIN to get in there and get set up?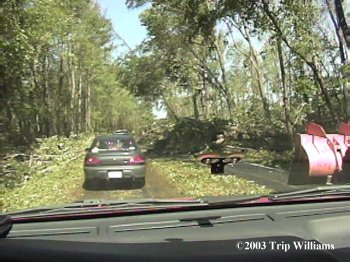 Experience gives you a HUGE edge while going through things people never even think could happen, Like getting stopped at Police and National Guard checkpoints where they eyed the tools, supplies, and equipment, in the back of my truck hungrily, with me KNOWING they had the power to just "take" the stuff if they needed it... It means I know how to keep people from just stealing the things they need out of my truck while I'm parked at gas stations, or while parked and cutting a tree out of the road... People are DESPERATE, and they'll do desperate things, and you'll end up with nothing if you don't know to watch for it, and how to stop them! It means I know to bring my own fuel when there's no gas to buy at ANY price for 30 miles in any direction.. I know to bring my own food and drinks so I don't put extra strain on the people in the disaster area who already have limited supplies and no way to get more...
...Then FINALLY getting to Twist's house, and finding HUNDREDS of HUGE old trees down.. some laying on buildings and power lines and making roads totally impassable... Some hanging over houses and such that couldn't just be cut away, but had to be climbed, and from there cut up carefully and then lowered to the ground one piece at a time with ropes and chains...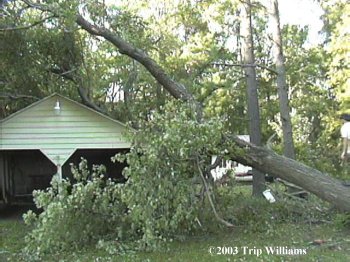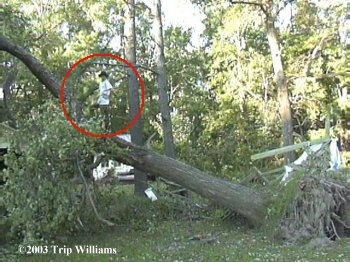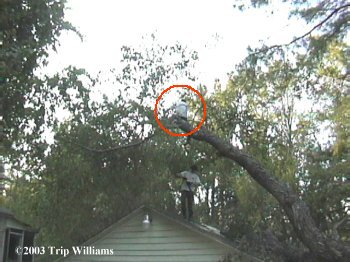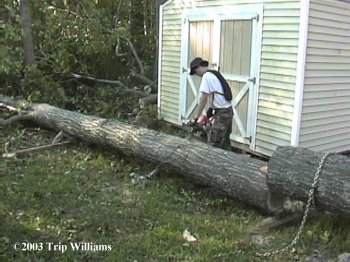 (Notice that the bar on Twist's Stihl Chainsaw doesn't even reach completely across the tree he's cutting. You get used to that pretty quickly though... cut through the tree on one side, then go around and cut the rest of the way through the tree on the other side... you make do with what you have sometimes!)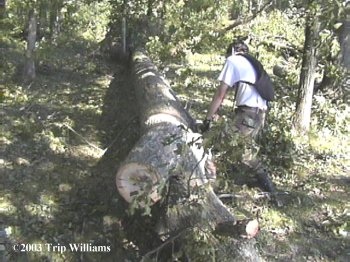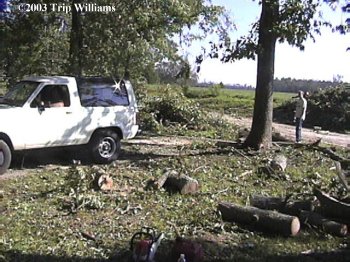 NO power in ANY direction (No "Power lines" left standing in ANY direction, they were all snapped for miles), NO open stores, NO "Ice", and knowing there would be no power or stores or ice or gas for weeks to come...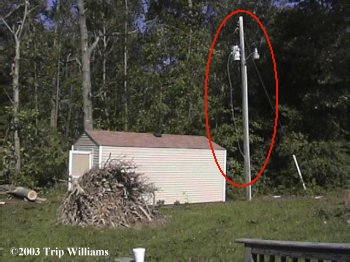 That's OK, We simply connected Twist's house up to generators we brought with us, and left them there with him until they got Grid Power back much later... Then using HIS equipment, supplies, and appliances, we had PLENTY of ice for working in the hot sun... Twist's Mother-in-law had stoves for cooking (although she had been doing a great job feeding us using the Coleman camp stoves we all brought with us, until we got Gen-set power connected to their house)...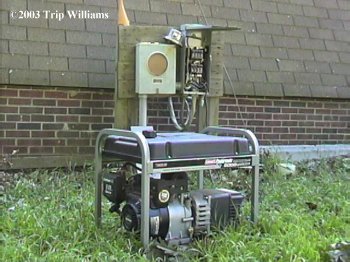 BTW, "Ice" was THE most sought-after item by EVERYONE in the area at the time. EVERY news report had people complaining about "Lack of ICE" even before they mentioned needing "baby milk" (which ran a distant second).. that's another of the little items people don't know they'll NEED (not "want", but "NEED") after a Summer Disaster unless they've got "Experience". Luckily, Twist had SEVERAL refrigerators and freezers at their old house capable of making LOTS of ice, being powered by my Gen-set, and the gen-sets of others (They eventually ran SEVERAL generators to be able to pump water, heat water, run stoves, run multiple refrigerators and freezers, Air Conditioners, etc)
At night we put out Seismic Sensors and other security devices, to guard our MUCH Coveted equipment, which allowed all of us to get much needed SLEEP, rather than having to stand watch all night in shifts... When people came along late at night, we knew about it, and we kept them moving on down the road! When we left, we also left food/drinks/fuel/equipment that we'd brought with us... We were headed back to unaffected areas, Whereas Twist and his family had to supply all of their own needs themselves until things were restored to normal... Of course Twist had good preps even back then, but "more" is ALWAYS welcomed when you don't know how long you may have to make it on your own, especially having small children, and other family members living with you...
We had Twist's place cleaned up and powered, and we were ready to leave, and FEMA STILL hadn't even been able to get relief stations into the area yet!!!
Like I said, My damage seems bad, but it's trifling compared to THAT experience, and we've been through MUCH MUCH more of the same, AND WORSE, since then... What could be worse?? We had Rubies at Ground Zero at the World Trade Towers immediately after 911, This Rubie was there identifying remains from Dental Records...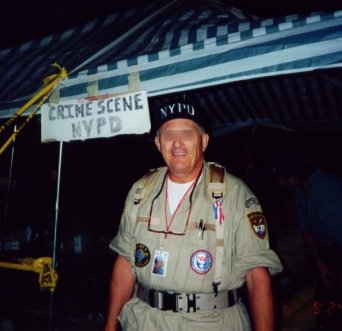 We had Rubies at NOLA, and in Haiti and Chili after the quakes, We have friends helping even now at the Fukushima Nuclear Power Plant Disaster in Japan... Where do you even BEGIN to start to recover after disasters of THAT magnitude? *We* know where to start, we have experience...
... all of which helps illustrate why we don't get very interested when Non-Rubies say "I think ____"... Not when we have MANY MANY members that can say "We've been through MUCH worse, and here is our advice"...
It's also why we don't get upset when Non-Rubies sneer their lips and say, "Rubies think they know more about Disasters and Survival and Preparedness than anyone else..." We simply reply, "Uhhh, Yeah... and your point?!?"
We don't "Think "we know more about Disasters and Survival and Preparedness"... We KNOW we know more about Disasters and Survival and Preparedness... we have the experience to prove it!"
Warlord
---
www.alpharubicon.com
All materials at this site not otherwise credited are Copyright &copy 1996 - 2011 Trip Williams. All rights reserved. May be reproduced for personal use only. Use of any material contained herein is subject to stated terms or written permission.