*Husqvarna 350*
Product Review
By Jaden
15 October 2004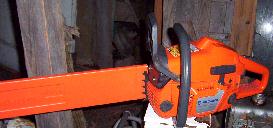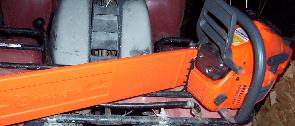 Last month I finally broke down and bought a new chainsaw. I had been debating Stihls and Husqvarnas. Both are good saws. I wasn't going to waste my money and buy some junk Poulan or other knockoff brand. I wanted a good quality saw. I thought about used and ruled that out. I wanted brand new with warranty. Buy once cry once theory.
I went to the local store to see what was there. He had 4-5 different Huskys on the shelf. I looked at the price tags. The cheapest was $300 and the most expensive was $600. Nerisa told me to get the saw that I wanted. Don't get the cheapest just because it's the cheapest. Yes dear…
So I checked them all out. The smallest and cheapest was the Husqvarna 350 with an 18" bar. I liked the feel of it and it wasn't overly heavy. It was just about right. It was plenty big enough for what I needed. After weighing the options I chose it. I didn't have $300 bux on me, but after talking to the owner I got it on credit :o)
I took the new acquisition home and showed it off to Nerisa. "I like them big boy toyz". :o) That night I sat down and read the owner's manual. Didn't want to break my new saw by doing something stupid.
I was just itching to give it a try so the next night I filled up the bar oil and fuel tank and went to attack my grandma's woodpile. She had 4+ cords of wood that needed to be cut (that's what prompted me to get the saw now).
The saw was a little hard to get started for the first time. Gee…so was I when I was brand new. After a few yanks I got it going and let it warm up. Then I commenced cutting. Wow…..nice. The bar was dropping through the wood like it was warm butter. I took it easy for the first tank of gas…kept the RPM's down to give the engine a chance to get broken in.
On the second tank I let it all hang out. No problems whatsoever. I cut the entire woodpile using only 4 tanks of gas. So it equals out to 1 cord = 1 tank.
This saw has a decompression valve on the side of the engine block. This makes cold starts much easier. Just push the button in and start cranking. It pops back out automatically.
This saw is equipped with vibration dampeners. Yes they do work. This baby rides just like a Cadillac.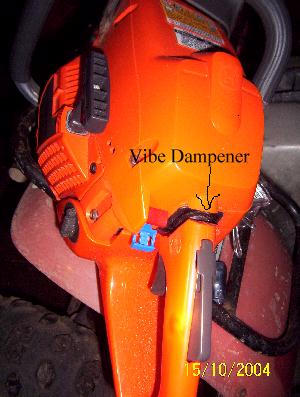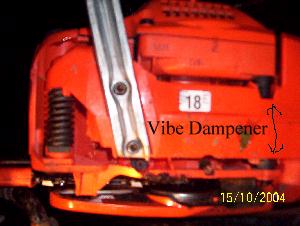 While cutting all that wood the vibration in the handles was minimal. Darth Vader- "Impressive…. most impressive."
So based on MY experience with this saw I will recommend it. If you are looking for a fairly inexpensive, yet good quality saw the Husky 350 might be the one for you.
Jaden
---
www.alpharubicon.com
All materials at this site not otherwise credited are Copyright (c) 1996-2004 Trip Williams. All rights reserved. May be reproduced for personal use only. Use of any material contained herein is subject to stated terms or written permission.