*Emergency Sanitation Bucket*
By: TooshieGalore
27 February 2017
So, it's that time - when I open buckets to check on things and thought you might like to see how I do it.
I like plastic buckets so my Emergency Sanitation Kit consists of two 6-1/2 gallon buckets with screw-on "gamma" lids. I chose the 6-1/2 gallon because it is as tall as most modern toilets. The first bucket holds everyday items for routine emergencies including an emergency potty, general cleaning, personal hygiene, a solar shower and laundry. The second bucket holds supplies for biohazards that I might need if pathogens are a concern. Items in each bucket are organized into separate ziplock bags.
PPE
Protect yourself first - specially if you're cleaning after a disaster. I include: (4) N95 masks with respirators. The respirator types cost a little more but they are so much better. Heavy-duty, long-cuff rubber cleaning gloves - not the little medical gloves that come to your wrist. Plus, leather work gloves and hand sanitizer. I prefer swim goggles over regular safety glasses, specially if bio-hazards are of concern because they seal to your face.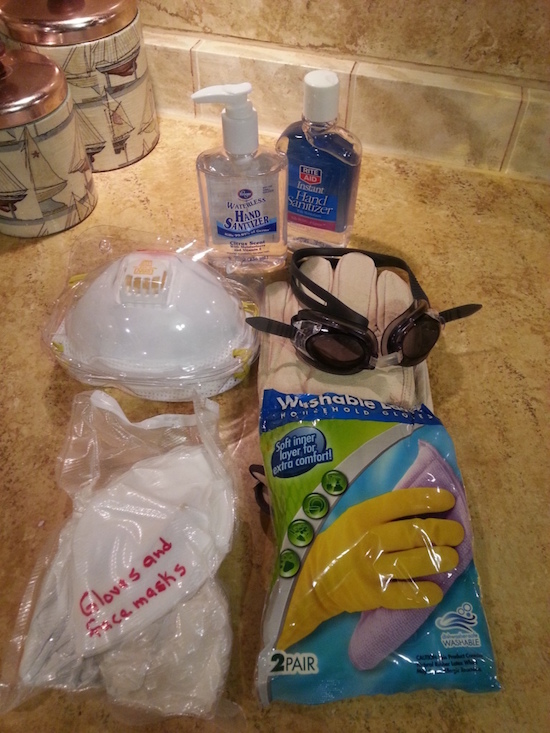 Water (for cleanup)
These items disinfect and filter water: A camping pot and lid to boil water, BIC lighters, fire starter, matches and a foldable Esbit stove. Coffee filters to pre-filter water, an eye dropper, purification tablets as well as a commercial silcock wrench, a bunch of quart-size ziplock bags, and instructions for purification. The colored straws contain rehydration salts- just in case someone over does it in summer heat and humidity.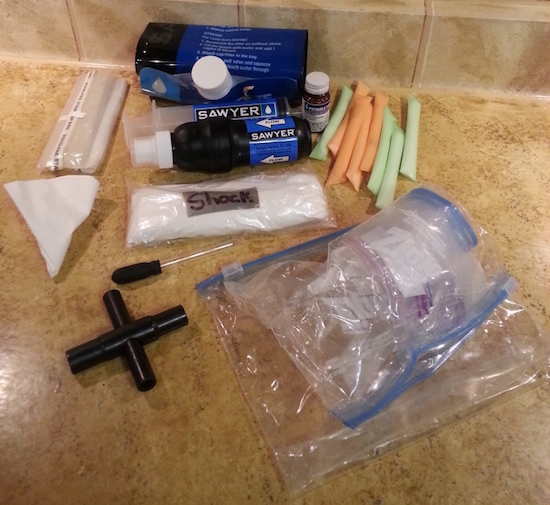 I have started storing pre-measured Pool Shock in individual plastic bags with enough to make one gallon of bleach. Then I store the small bags in a recycled plastic spice jar with plastic lid. I think the redundancy of having a small amount in different bags (BOB, BOV, etc) is better than having all my eggs (or Pool Shock) in one basket.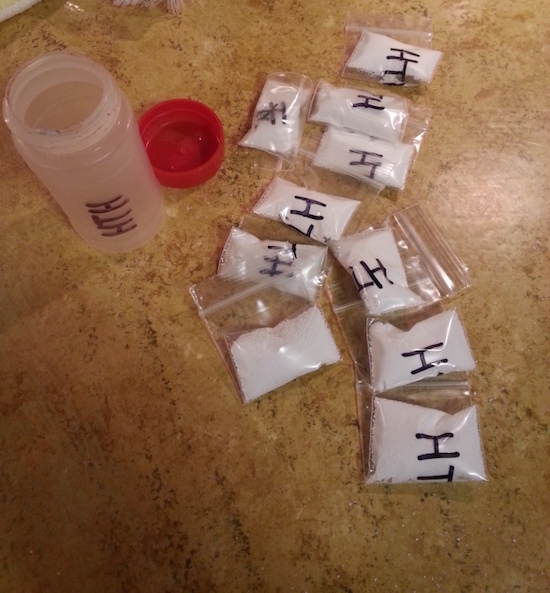 I include dish soap, antibacterial Dial soap in a pump bottles, a general disinfectant cleaner, a hand brush, disinfectant wipes, scrubby pad and scissors.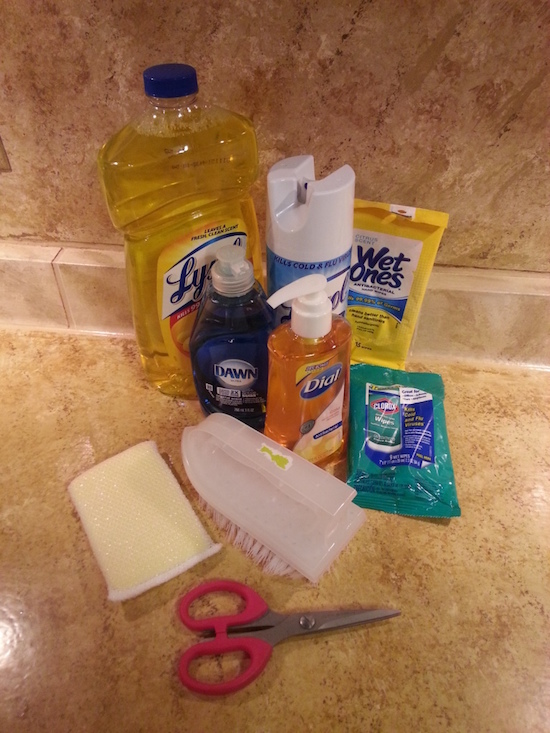 The buckets can be a potty. Perhaps a his and hers if that makes since, or a pee and poo if that makes since - but as usual, with two comes options. Trash bags: 30 12-gal, and 10 33-gal drum liners. 4 rolls of toilet paper, baby wipes, and SuperSorb. SuperSorb looks like sawdust. Sprinkle a little into the trash bag and everything is absorbed and turned into a gel. No toxins, no smell. An emergency toilet seat doesn't store in the bucket, but is nearby. A lot of stuff in this category is vacuum sealed to reduce volume. Remove the cardboard from the center of the TP to save space. Two cheap nylon shower curtain liner with hooks provide enough room for a privacy enclosure.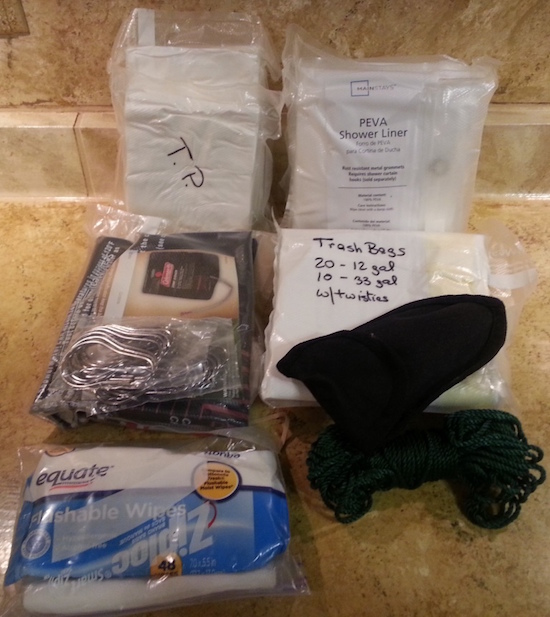 After I've cleaned and sweated, I want clean clothes so I include travel-size packets of Tide, clothes pens, and 50' of 330lb mason twine to make a drying line.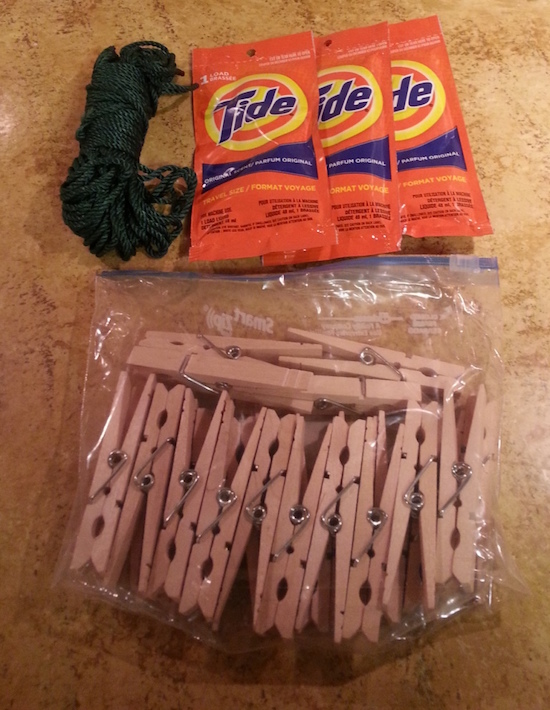 After our flood, the water treatment plant shutdown service until they were sure all water lines are clear and safe. This took more than a week so we were only able to use the water we had stored. After a week of sponge baths, I was craving a real shower. So I includes a wash cloth and large camp towel each for Hubby and I, bar soap, shampoo & conditioner and an outdoor solar shower. I purposely chose items that smell heavenly. If a muddy mess comes your way, you'll be happy with the various sweet smells of clean.
I also tucked in stay-cool neck bandanas, deodorant, medicated foot powder, hair scrunchys for long hair, Chapstick, nail clippers and file, toothbrushes and paste, mosquito repellant, sunblock and hand lotion (I was washing my hands a lot). As well as spare reading glasses and an eye glass repair kit.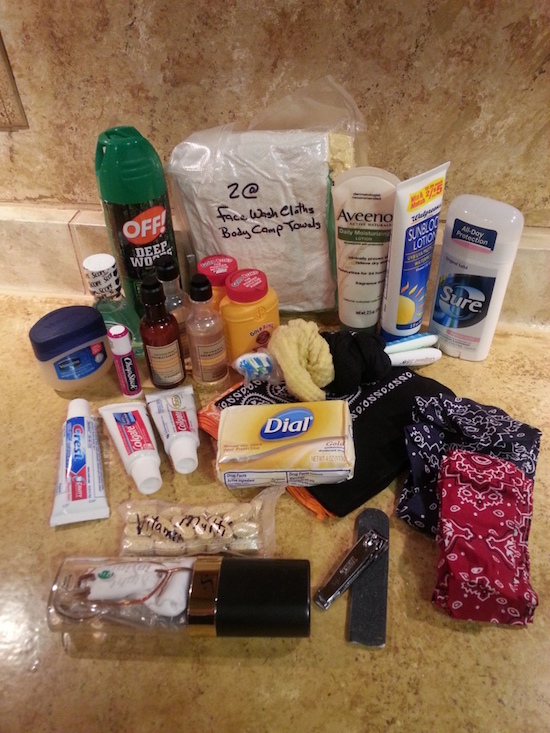 If the disaster is on, I want to have a small med kit handy - anti-diarrheal meds, Advil, aspirin, tweezers, safety pins, triple antibacterial ointment, assorted band aids, tegaderm, a few 3"x3" sterile bandages, and Hibiclens soap. It's because of this component that I inventory the bucket once each year and check on expiration dates.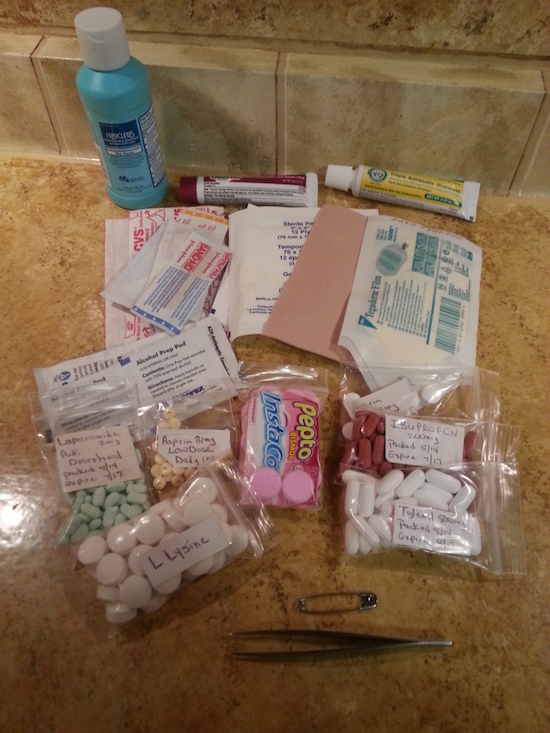 There was space remaining in the bucket so I threw in a few basics: a small LED flashlight, headlamps, spare batteries, duct tape, chem lights, a combination themometer/whistle/magnifier, a pad of paper/pencils/market/sharpie and of course, my favorite - chocolate!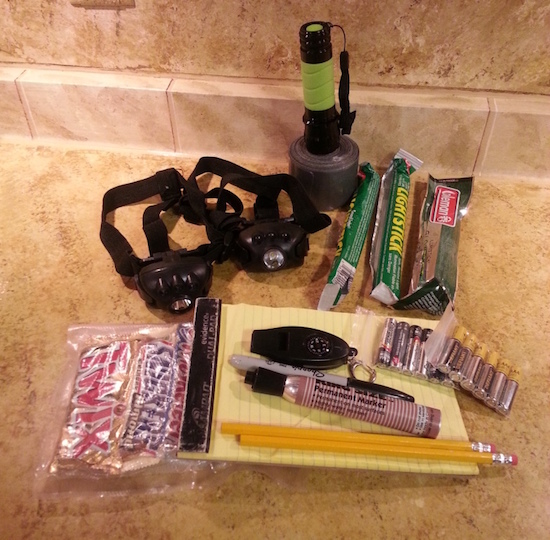 That's 71 different items in one bucket. I don't know exactly what I might need so I go for travel sizes and small quantities of a lot of different things. The last thing included in the basic sanitation bucket is a complete inventory list and instructions for those tasks I don't do everyday - like mixing PoolShock, making an emergency potty, administering re-hydration salts and proper protocols for proper disinfection.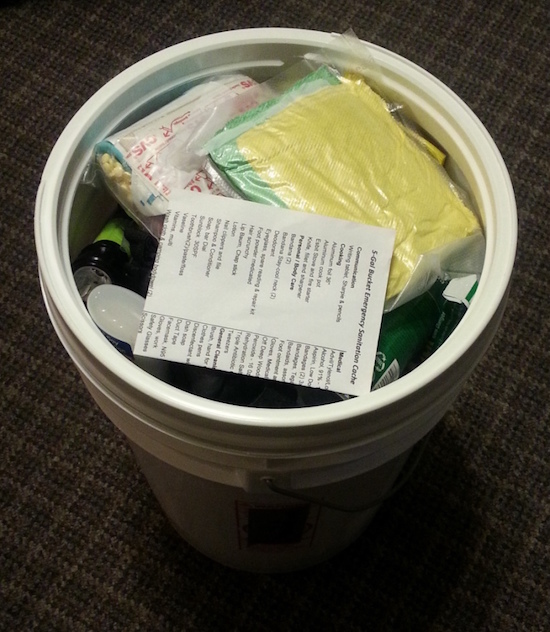 The BioHazard Bucket contains items purchased specifically for a higher level of protection including, a full face shield, an empty spray bottle, 2 rolls shop towels and long black industrial type to-the-elbow gloves. Both are available at Harbor Tools. I figure the second plastic bucket will come in handy for something, if only for hand washing laundry, storing supplies and keeping them clean or for cleaning water.
I went to the janitorial supply store and told them what I was doing and asked for advice. I knew I wanted to kill HIV, tuberculosis and salmonella. They recommended two products that I found on Amazon, a bit cheaper.
Quat Stat is a broad spectrum disinfectant, cleaner, fungicide, mildewcide, virucide and deodorizer. It can be used for cleaning hard surfaces, deodorizing, and it is rinse free - that saves on water!. It kills bacteria and viruses including HIV-1, Hepatitis B, VRE and MRSA. It meets OSHA specifications for compliance with the Bloodborne Pathogens. Betco OxyFect is a peroxide cleaner disinfectant. It's usable on hard and soft surfaces including carpet. Highly concentrated, mix 2 oz with a gallon of water for cleaning and disinfecting. Kills antibiotic resistant organisms - MRSA, CA-MRSA, and VRE. You can even add it to the laundry for cleaning clothes and bed linens.
I feel my buckets provide a lot of capability with items that I'm accustomed to using. I didn't run out and buy a lot of specialty items, most are routine supplies that I'd have around the house anyway. However, I like having everything organized all in one place.
Quat-Stat: http://www.amazon.com/Quat-statTM-Sc--Fastdraw-2L-Ea/dp/B015QIWSBO/ref=sr_1_1
Betco OxyFect: http://www.amazon.com/BETCO-Oxyfect-Peroxide-Cleaner-Disinfectant/dp/B00E8R8VXY/ref=sr_1_1_a_it
Update:
After suggestions from fellow Rubies, I sharpened the pencils to a dull point and added a pump to access water from my IBC tank for the shower.
TooshieGalore
---
This Article Was Proudly Formatted For The AlphaRubicon Website By: wmerrin



www.alpharubicon.com
All materials at this site not otherwise credited are Copyright &copy 1996 - 2017 Trip Williams. All rights reserved. May be reproduced for personal use only. Use of any material contained herein is subject to stated terms or written permission.