*Signal Kit*
By: Stormhunter
30 March 2016
I have signal stuff in my BOG but I did not have a general purpose signal kit to mark rendezvous sites, leave a message etc. I wanted a kit to be able to mark a spot day or night, leave a durable message on concrete or some other irregular surface or exchange signals at a link up site.
Looking around I gathered the following in my first go at the kit (see picture below)
From left to right
Ammo can to store everything in. A piece of orange reflective material to use as a signal panel. You can buy military VS-17 Signal Panels or its military equivalent.

Carpenter's Pencils, 3x5 Notecards, Colored and White chalk, Sharpie permanent markers,

Flashing red light ( a strobe light would be better), Yellow duct tape, Orange reflective spray paint and a reflective belt.
Good additions to the kit would be: flagging tape (I carry that in my BOG), carpenter crayons, flares, a strobe light, flashlight with multi-colored lenses, a cyalume light stick and some colored signal flags (red, green, blue, black like the military vehicle signal flags).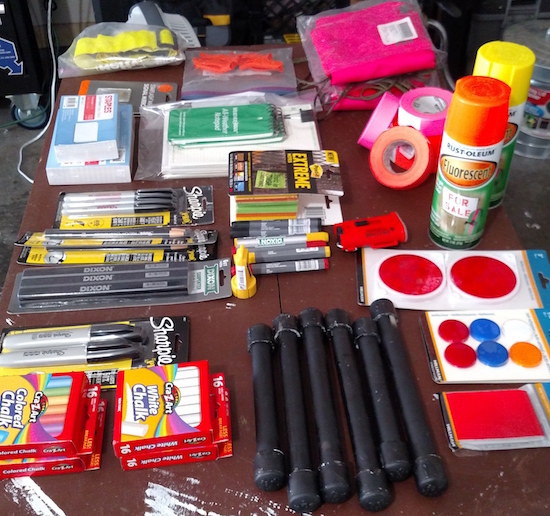 Stormhunter
---
This Article Was Proudly Formatted For The AlphaRubicon Website By: wmerrin



www.alpharubicon.com
All materials at this site not otherwise credited are Copyright &copy 1996 - 2016 Trip Williams. All rights reserved. May be reproduced for personal use only. Use of any material contained herein is subject to stated terms or written permission.