*Off Grid Power Tools*
By: TexasOk
29 April 2018
Power tools will save you time and labor when doing almost any building project. I worked as a carpenter building homes for a number of years and built up a heavy inventory of tools during that time. The advantage of battery operated tools was when you were working in areas without power, you could recharge the batterys using a solar panel setup or small compact generator.
Dewalt tools have worked great for me, there are other brands out there but these were readily available in my area and out performed many of the other brands at the time. Alot of my tools are now 16 years old and are still used almost daily. The only failures I can recall were a couple of the trigger switches going out on the drills or circular saws after years of heavy use. In several cases during replacement of the switches it was found that dirt or sawdust kept them from operating and could be cleaned with compressed air which fixed the problem. Also had the bearings go out on the rotary cutout tool working in a dusty enviroment of cutting sheetrock and gyp board which is to be expected of any power tool. I always kept extra brushes, standard switches and variable speed switches on hand. The parts are very affordable and readily available.
I own a complete line of Dewalt Corded Power tools but always find myself pulling out the 18volt tools to use in most projects.
Here are just some of the tools collected over the years.
The ones that get the most use would be a Drill, Impact Driver, Angle Grinder/Cutoff tool, Circular Saw, Sawzall and Fluorescent Work Light.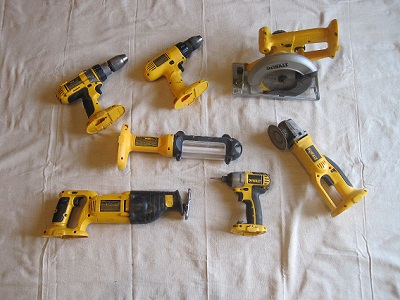 The next tier of tools that were handy for specific projects were the smaller Trim Circular Saw, Jigsaw with the keyless blade change, Rotary cutout tool, Gooseneck Flashlight, and Angle Drill.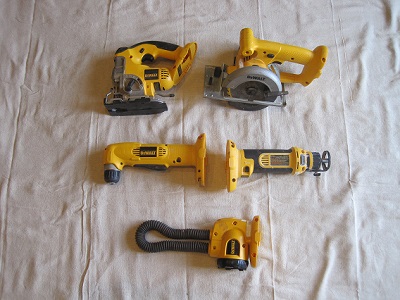 The 3rd tier of handy tools if you use brad nails are the Straight and Angle 18 guage brad nailers. These unit have their own mini air compressor built in and I have hung several hundred thousands board feet of crown molding, baseboards, door and window trim with these tools without any issues other than an occasioanl jam caused by a knot in the wood or hitting a misplaced sheetrock screw or nail.
The 4th tier of tools that were handy were the Jobsite Radio and Wet/dry Vacuum Cleaner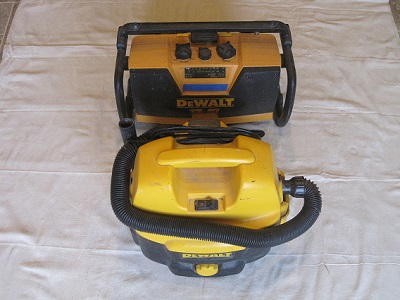 If you do alot of construction from the ground up and in order to justify the expense, the Rotary Laser was a good tool to help make leveling quick and easy for foundation work, installing septic lines or just transfering level lines around the work area.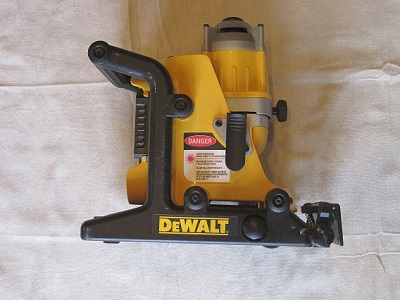 Combined with a tripod, a 13' collapsable survey pole and 2 of the adjustable laser receivers attached to your survey pole you can set top and bottom grades for footings and form boards at the same time. This made quick work when digging and forming up concrete pads.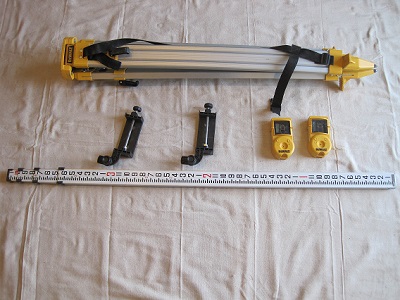 Having alot of extra batteries on charge kept everything running smooth. In hot conditions it will extend the lifespan of your batterys by letting them cool off after a heavy work load before sticking them back into the charger. Over the years I have replaced the internal batteries on some of the packs but when time is money, it was easier to replace rather than repair in my case. Direct DC charging seems to make the batterys last longer than using the ac chargers but reguardless they can be charged off grid using the Dewalt Automotive Charger or the AC dual chargers using a small inverter, battery and solar panel or a gas powered compact generator using multiple chargers.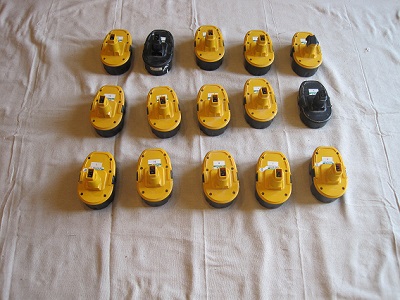 TexasOk
---
This Article Was Proudly Formatted For The AlphaRubicon Website By: wmerrin



www.alpharubicon.com
All materials at this site not otherwise credited are Copyright &copy 1996 - 2018 Trip Williams. All rights reserved. May be reproduced for personal use only. Use of any material contained herein is subject to stated terms or written permission.