*My Upside-Down Garden*
By: Lindy
14 July 2011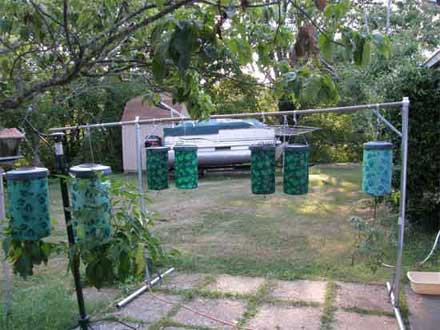 Material list:
| | |
| --- | --- |
| Quantity | Item Needed |
| 2 | 2 5/8 Fence pipe 5'6" support pipes |
(If you wish to make it longer buy additional hardware for top and support...)
Start by cutting the feet, 2 5/8" 7', in half.
Cut 3/4 14" solid angle iron 4 pieces.
Drill holes on both ends of the angle iron.
I drilled the holes in the pipe as I went. Just keep in mind, when mounting the angle iron supports, that you want them spaced equally from corner. As extra safety I rounded angle iron corners, so if someone scraped against them they wouldn't get cut.
Assemble the feet to support pipe with T clamps, then use square and assemble angle iron supports.
Now assemble top pipe to base footing, then once again install angle iron supports.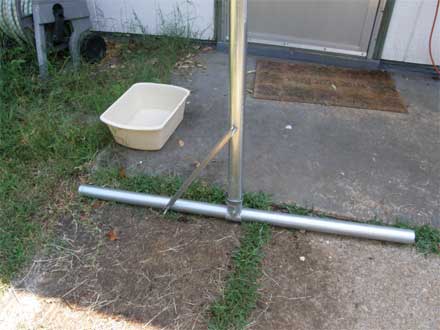 I used other fence parts for hanging pots. Not the best fit, but it works.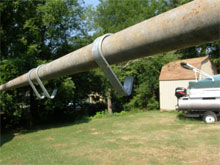 Good luck and happy gardening.
Lindy
---
www.alpharubicon.com
All materials at this site not otherwise credited are Copyright © 1996 - 2011 Trip Williams. All rights reserved. May be reproduced for personal use only. Use of any material contained herein is subject to stated terms or written permission.