*My Maxpedition "Fatboy" Daily Carry Versipak*


By: Shots
23 December 2005

I'd been wearing a "fanny pack" for the last 4 or 5 years now, and I continually found myself wanting a better method of carrying my concealed weapon and the gear I carry on a regular basis. I was at a gun show recently and saw a display of Maxpedition Gear. After checking out a few of their bags and backpacks, I was happy to see how well made they were, as well as the variety of packs and accessories they have for them. Now I've always been of the opinion that it's BS that men can't carry a handbag in the United States without looking like a...let's say, effeminant fellow--I just have too much stuff to fit comfortably in my pockets, but I wasn't keen about looking like a member of the gay pride parade either. Maxpedition has stepped up to the plate with their versipak series--they're made like a photographer's shoulder bag, but with the ruggedness of a carpenter's bag. They accept many accessories depending on what you want to haul ! around with you. These bags are designed to go over your neck, across your torso, hanging off one side, and they can also be carried over one shoulder, which is how I tend to carry it. I settled on the "Fatboy" Versipak pictured below: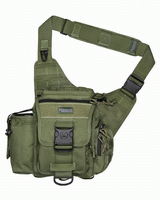 I've been carrying the versipak for over a month now, and aside from a few curious looks, nobody really gives it a second glance--most of the time they think I'm a photographer carrying his gear, and I never really spend too much time worrying about what they think anyway. So just what does this pak carry? Mine contains the following gear:
Glock 19
2 extra hi-cap mags for the Glock
North American Arms 22 revolver
Icom multi-freq ham radio
Brinkman flashlight
Leatherman multi-tool
Green laser
wind proof lighter
butane lighter
basic first aid kit
personal prescription meds
eye drops
spare contact lenses
toothbrush
toothpaste
small monocular
compass
binoculars
digital camera/camcorder
2 cyclume lights
battery powered cyclume light
sanitary wipes
credit card survival tool
pen
knife pen
face wipes
breath mints
sanitary gel
poncho
wallet
credit card/CCW case
sidewinder cell phone charger
spare battery for cell phone
car charger for cell phone
9-volt battery adapter for cell phone
external antenna adapter for cell phone
Here's a pic of all that gear spread out on a of couple TV trays: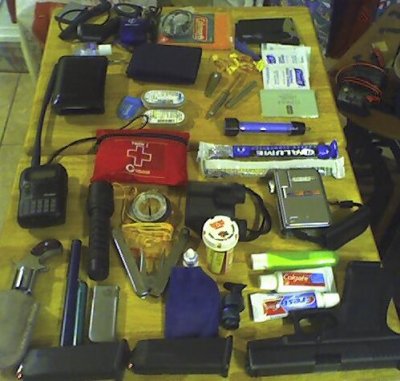 I added a sheath for my multitool and flashlight so they sit on the outside of the versipak. There's still plenty of room in the pak, and it's not very heavy at this point--I can carry it for hours without much discomfort.
All in all, I'm very happy with this pak from Maxpedition. So much so that I bought a couple of their Falcon II 72 hour backpacks for our BOBs (and that's a whole other article!!)
Shots
---
www.alpharubicon.com
All materials at this site not otherwise credited are Copyright © 1996 - 2005 Trip Williams. All rights reserved. May be reproduced for personal use only. Use of any material contained herein is subject to stated terms or written permission.