*2-Liter Water Storage*
By: TexasOk
30 March 2018
If you save your 2-liter soft drink bottles and reuse them to store water here is an easy way to store 160 of the bottles which gives you just over 42 gallons of portable water.
We use a Hyper Tough 5 Tier Wire Shelving Rack available from Walmart and other big box stores.
At a cost of less than $50 the wire shelf unit measures 16"deep 36" wide and 72" High. Each shelf will support 350 pounds of evenly distrubuted weight for a total unit weight of 1750 pounds. The total weight of the water is around 336 pounds so this unit is over built for the job.
For the 2-liter bottles, I recommend cutting the box up to fit and line 2 of the shelves with the cardboard. We used some heavy cardboard from a appliance box to do the other 3. The purpose is to make a cushion that keeps the bottles stable and prevent direct contact with the wire shelves.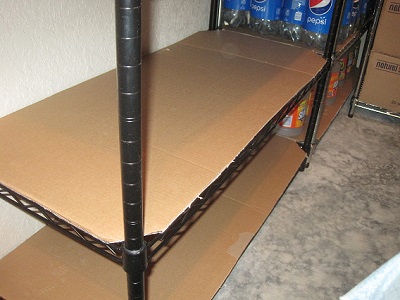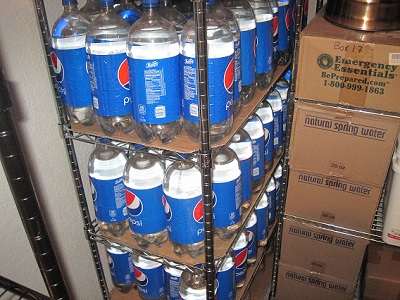 At the time of this article the bottles have been sitting on the shelves for just over 3 years at this location without any issues.
TexasOk
---
This Article Was Proudly Formatted For The AlphaRubicon Website By: wmerrin



www.alpharubicon.com
All materials at this site not otherwise credited are Copyright &copy 1996 - 2018 Trip Williams. All rights reserved. May be reproduced for personal use only. Use of any material contained herein is subject to stated terms or written permission.