*Corona Grain Mill Test*


With Results
By: Nakhota
28 April 2011

There has been a bit of discussion here and elsewhere on different grain mills. I have been telling people that the Corona mill is a viable (if not desirable) alternative to pounding grain with a big rock.

You CAN make usable flour with a Corona. I used my second Corona (the first one is a "real" Corona, and is in long term storage). This one is a Molina "Corona", it says on the side of the casting. I believe this is a Brazilian knock-off, but it IS a Corona.

I started with the mill clamped to a round table. That is a mistake. It wants to move because of the round edge. Anyway, the hopper on this one is a plastic 1 quart jar, duct taped to the mill. This actually works better than the original hopper. This mill came from a flea market and had no hopper, but I use a plastic hopper on the other one too. A peanut butter, or square Miracle whip jar, works great. The Miracle Whip jar works well because it fits perfectly and it is wider, making pouring easier.

So, here is the setup:
One quart of hard red wheat (12 years old now, VERY hard red wheat).
A sifter (that I didn't use).
My watch (for timing).
The mill.
Some bowls to do the transfer with.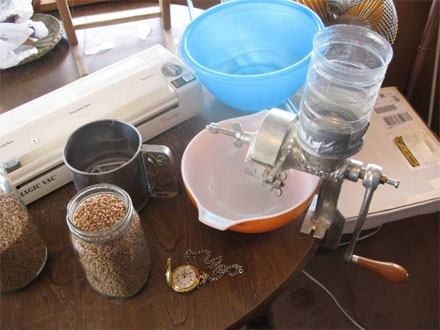 Short story is that it took six passes through the mill to make what I considered would make a decent loaf of bread. The grinding took about 3 minutes per pass, and I set the burrs progressively closer at each pass. It took a total of 34 minutes to grind all six passes and make 5 cups of flour from the 4 cups of wheat. This includes time to transfer the flour from bowl to bowl and refill the grinder (and to get my rat terrier out of a sticky mouse trap when my wife came over to see what I was up to). The test took place in one of our cabins that I use as a secondary storage unit, guest house and prep kitchen.
Here's the result of my labor (I got hot, the flour got warm). The cabin is unheated and probably about 35 degrees F at the time...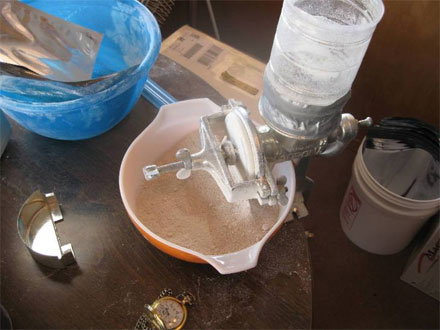 Yes, that is flour (some on the burrs is white). I took off the guard so you could see it better.
YOU CAN MAKE FLOUR WITH A CORONA! With time and effort... it is a viable backup unit. I made enough flour for almost 2 loaves of bread with 30 minutes work. Not bad for a cheap mill. I'll put it away now and hopefully won't ever need it. I have a wonderful electric mill and a Country Living mill if I ever need exercise.
My wife is baking a loaf of bread with 3 cups of the flour (no extra white, just Corona flour) now and I'll report back when it is done.
Update!...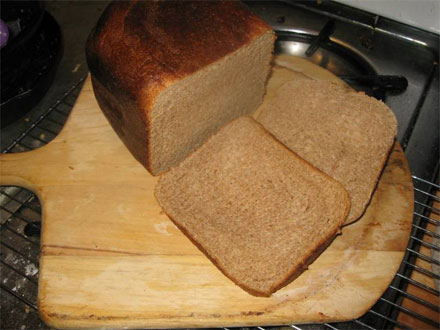 The bread was fine, good, simple whole grain goodness.
Nakhota
---
www.alpharubicon.com
All materials at this site not otherwise credited are Copyright © 1996 - 2011 Trip Williams. All rights reserved. May be reproduced for personal use only. Use of any material contained herein is subject to stated terms or written permission.