*The Rubicon's International Campout*


The "IC", The Biggest Event of the Year
By: Jaden
01 September 2007

Rubies aren't paranoid lone wolf types who are in fear of every body and everything and storing beans and bullets getting ready to fight the government. You'll see that mentality on some websites. We're not scared to meet each other. Heck, we had "the government" at the IC! Yea, we had feds & cops. They're just as normal as the rest of us. The Rubicon as you see it here on the public side is NOTHING like the real deal. Even once you get inside it will take months if not YEARS to feel the full effects and the real deal, provided you "Rubie up". I've been here 5 years and just saw the Rubicon in its greatness at the 2007 IC. Something always happened in years past that prevented me from going. Now that I've been to one, it's an absolute priority to make every effort to be at them all.

What is the IC? Well, it's an annual event that's held in the USA..(at least so far anyway) where all full members from around the globe can gather for a few days and have fun, meet each other in person, meet old and new friends, teach classes in areas of expertise etc. There are several regional campouts and functions throughout the year, but the IC is the big deal.

We did a lot of things and some classes wound up being cancelled just for the lack of time. I taught people how to build screw together J-poles & how to put a roof mount antenna in Dementor's vehicle..hahaha!! Gator211 taught map and compass which is good even for experienced folks to brush up on, JJW ran a shoot house and taught house clearing, Countrymouse taught throwing knives and stars (now that's FUN!), Myndtryp was the repelling man, Shogun did a good radiation meter/dosimeter class, Reddog's weather class (he's a weather spotter/storm chaser- chases tornados and gets live video footage. That's just his "hobby") was most excellent! The list goes on and on. There were unscheduled side "classes". Countrymouse had never used a chainsaw before. She got her first chance at the IC. Tiro is 17 years old and on the last night he came to me while I was sitting down with Blizzard and a few others and said "We need a fire". I hadn't sat down much all week and I really didn't want to get off my butt. I simply said "You've been with me a week and you can't get a fire going?" That's all it took. He went to the pit where his dad was and was all full of himself "Jaden told me to get the fire going." That he did, he had a nice smudge. Made me proud, he's gonna be a pyro after my own heart.

I was getting a little bit too popular. Let's see, I wound up being the camp fire marshal, commo dude, camp maggot, camp pyromaniac, master chainsaw-er. Umm… fire marshal & pyromaniac…isn't that a conflict of interest? My "real" job as medic was pretty dull fortunately. Medics got it easy this year, just a couple of scrapes and scratches. I was even trying to take SAFEteam watches and got shot down cuz we were a little shy on medics.

How many people go camping and have an ER physician, a pretty paramedic, a surgeon and a handful of EMT's kicking around? (that's shy on medics) Not to mention a landing zone and arrangements already made for Medivac if needed. Let's not forget the several people on the SAFEteam for camp security. How many people go camping with current and former military some of which include Special Forces who will be awake all through the night to keep an eye on things while everybody sleeps?

Here's some things that happened this year. We camped in the mountains on the east side of the US. We had water and electricity and even showers, not too mention really good food and WAY too much of it!

Sorry about the blanked out faces, we like our privacy too.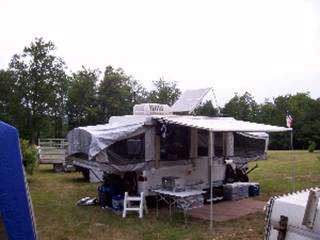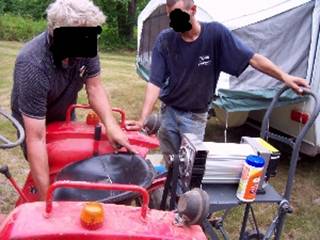 Blizzard & Kosh's solar powered camper------------------------Sierra37 & Brian riggin' the 10Kw genny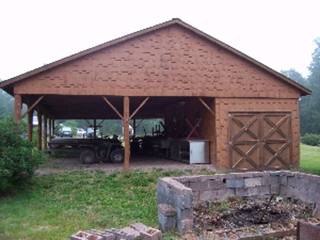 Nice pavilion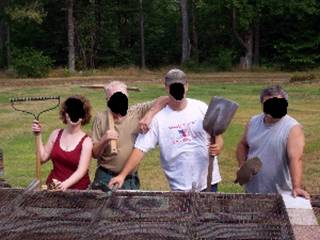 Mmcguy using a high tech leveling device---------------------&Shout, Mmcguy, me and Recon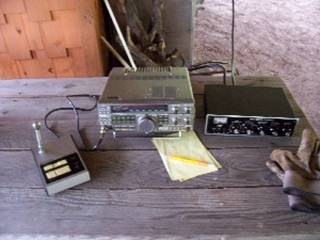 HF ham radio
Mmcguy and I hold bragging rights for the BBQ pit. It was in a sad state of disrepair and we headed up the restoration project. After the hard brain power work was done, &Shout and Recon came to help :o) It is perfectly level and only 1/16th of an inch out of square!!
Cellular phone service was horrible, but ham radio was working just fine. No big surprise there.
Hipshot (a.k.a. Waterboy), Recon, Mmcguy and I undertook the water collection process from the spring. The idea was to gravity feed and fill a big tank on Sierra's trailer. Hipshot gets the credit, it was an INGENIOUS system he came up with. We got Sierra's Tahoe and trailer stuck trying to get to the spring.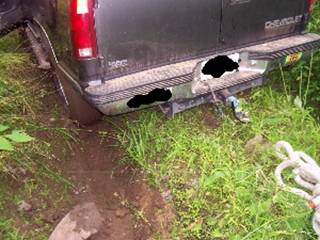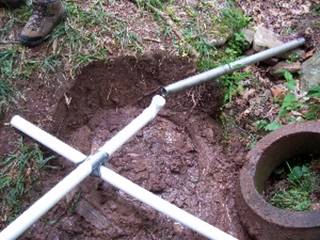 Recon, Hipshot, Shogun & Blackhawk strapping down the tank-------------------------------------------Part of the water collection system
Twist and &Shout's daughter was my free blueberry supplier until Shogun taught her how to "sell" them. Thanks bud, you're a real pal!!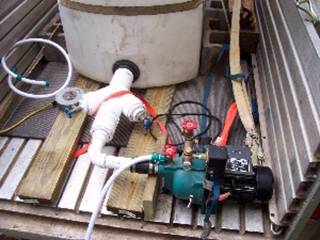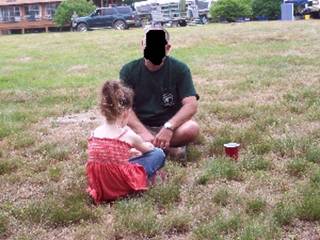 Water pump--------------------Shogun teaching Bean how to sell berries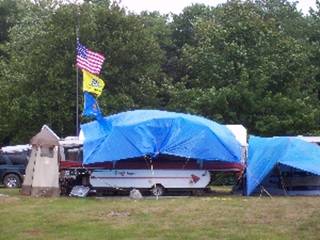 Camp Reddog & Mamadog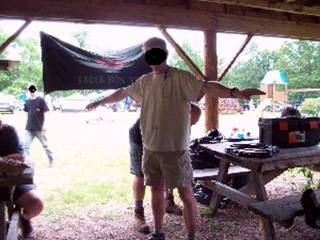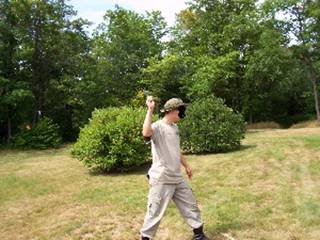 Myndtryp (don't ask :o) )-----------------------------Tiro throwing a knife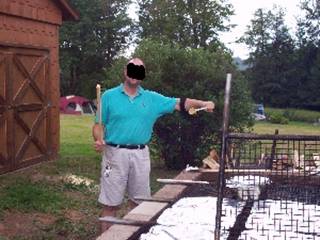 Concolor44 cooking some AWESOME delicious chicken
The nightly group meals were, well…ummm….too good for words to describe. If you left hungry it was your own fault.
NOTE: Any single ladies out there? Chase Dementor, that boy can COOK. I'm still tasting his tacos.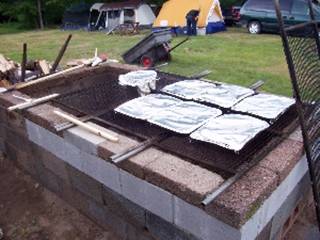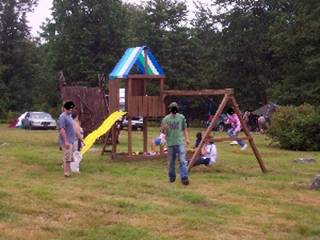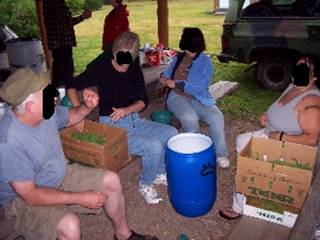 I can still taste that chicken------------------------Green bean snapping team, Ouldsoldier, Gottin_Himmel, Duff40 & Countrymouse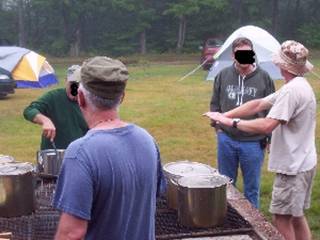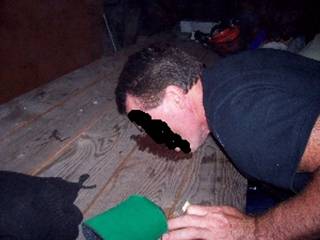 Shogun, Ouldsoldier, Warlord & Myndtryp----------------------------SAVE THE COKE!!!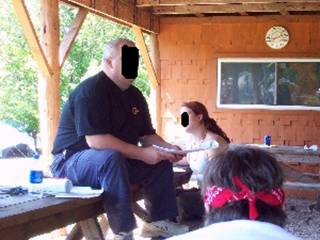 Gator211 teaching map & compass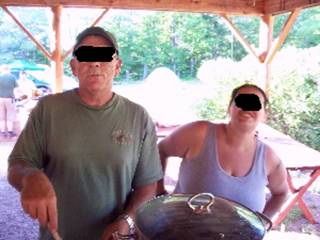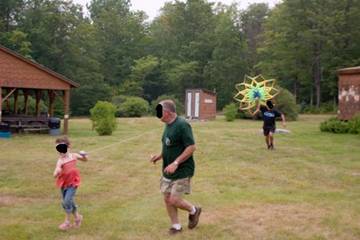 Shogun & Countrymouse-------------------------Bean, Shogun & Hipshot flying her kite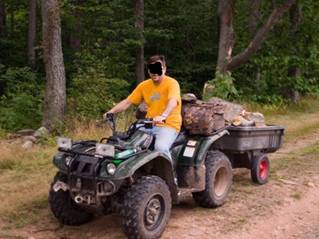 Preakingeek on firewood detail

Hey CM….I got to draw on YOU this time!!!…HEH HEH….inside joke!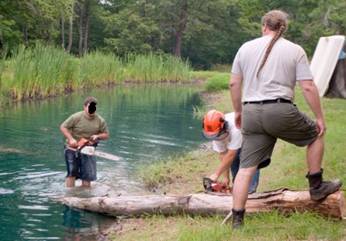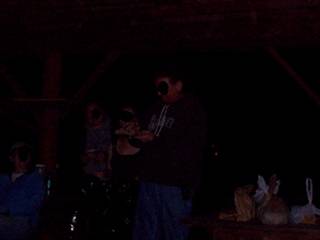 Skid600 (in water) me & Juba------------------Warlord scouting a gift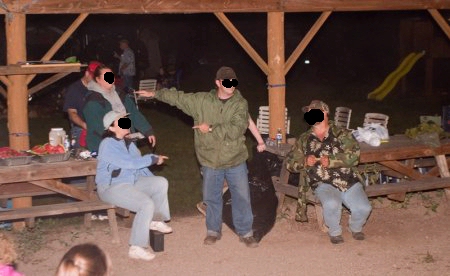 GVI- "He went THAT way!!"
We had a Chinese gift exchange on the last night which lasted for about 2 hours, oh man….what a hoot! Kailyst's home made chocolate bar changed hands probably 30 times. That evil Warlord stole it from a 5 year old!! The ammo can with beans and bullets bounced around some as did the 12- volt fans and the honey jar. I ended up with a 20,000lb tow strap. There's a few sweet teeth in the Rubicon, that's for sure!
I had spent a full week there. I arrived on a Sunday afternoon and the IC didn't start until Wednesday, but there was a lot of prep work to be done. The IC was a blast and when it came time to leave the following Sunday it sucked. *I* did NOT want to leave, my stomach was all knotted up and I felt sick. I *KNOW* for fact that I wasn't alone.
The entire group had gathered on Saturday to give "Uncle Dan" (the landowner) a send off. He was choked up and crying and had nothing but good to say about the Rubicon. He spent a week with us, his nephew is a Rubie. His nephew had never him like that before so we definitely made an impact on him. He participated in many of the classes and even pitched in a lot of good information. He has several groups camp at his place and none compared to us. Before we got there he was worried about fixing the BBQ pit before the next round of campers. He never had to touch a block, Rubies did it for him. We also cut a lot of his dead trees for firewood and left him with a pretty decent sized pile. He wants to be at the next IC even if it's not on his property again.
Sierra37 and Delta and a couple of others were talking to Uncle Dan about setting his cabin up for solar power. I was called in to talk ham radio with him for better communications. In just one week Uncle Dan earned so much respect from me that if he decides to go solar, I'll drive the 630 mile, 12 hour trip down there to help him set it up. He is that awesome.
Folks, as I mentioned up top, from what you see on the public side, you have NO idea what the Rubicon really is. Even some people who do get in take it for granted and get booted. The Rubicon is what YOU make it.
Jaden
---
www.alpharubicon.com
All materials at this site not otherwise credited are Copyright © 1996 - 2007 Trip Williams. All rights reserved. May be reproduced for personal use only. Use of any material contained herein is subject to stated terms or written permission.