*Making a Fish Net*


By: AFarmer
11 June 2006

I have been "in the market" for a fish net lately. Not a big one that you would catch a trophy bass with, but a small one for bait fish. When I saw the prices for nets, I discounted purchasing new.

The idea to make my own fist net came when I was preparing a turkey. The netting around the packaged turkey is what gave me the idea. The netting was the perfect size for everything from large minnows to crayfish. So, since I have a serious lack of priorities, the turkey was put on hold while I gathered the netting, a wire coat hanger, small cable tie and pair of pliers to set about making my long-awaited fish net.

>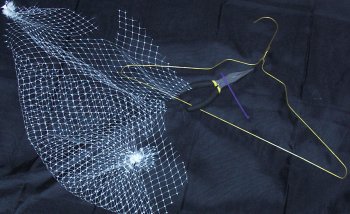 First, the pliers were used to unravel the coat hanger and straighten the wire. Once upon a time, my fingers were strong enough to do that without a tool, but the passing of time has not been kind to my hands.
Pushing one of the ends of the coat hanger through the openings in the netting, the net started to take shape almost immediately. When half the netting was on the wire, a small circle was formed in the wire to include the part already holding the netting, to facilitate getting the rest of the netting to fit. When all the netting was on a small section of the hanger wire, the pliers came in handy to wrap the wire around itself to hold the opening of the net in place.
The small cable tie was then weaved in similar fashion around the opening on the other end of the net and then tightened to hold the net closed in the section that will one day hold the fish or other creatures I ultimately catch with it.
The finished product doesn't look like anything you'd buy, but it's what I had in mind and it cost me nothing to make it - in about 15 minutes.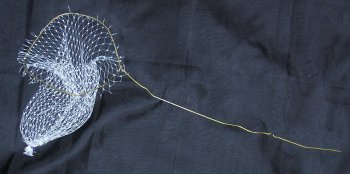 The turkey was still waiting in the sink, so that had to be addressed before trying out my net in the neighborhood creek. I did, however, put a glass jar in the net and held it by the wire handle for a few minutes to give the netting some form.
The overall length of the net from tip to tip is about 24 inches. In case it needs to be longer, the roll of duct tape in the truck will come in handy with any old tree branch along the way.
AFarmer
---
www.alpharubicon.com
All materials at this site not otherwise credited are Copyright © 1996 - 2006 Trip Williams. All rights reserved. May be reproduced for personal use only. Use of any material contained herein is subject to stated terms or written permission.