*60 LED Rechargable Cordless Work Light*


By: Pike
13 May 2008

Specifications: 120 V and 12 V, cordless, shatterproof, water and oil resistant, LED rated for 100,000 hrs of use, bright as a standard 80 Watt bulb, magnetic and a hook for hanging.

I have many different types of lights for different purposes, from Krypton bulbs, cordless spot lamps, tac lights, to keychain lights, regular flash lights, so I thought I would try a cordless 60 LED that Sportsman Guide sells for $29.95 that works on 120V or 12V in a vehicle. This lamp can be charged either by AC or DC in the vehicle. For a complete charge it takes only 2 hours and lasts for 4 to 5 hours.

I have been looking at this light for some time and I decided to give it a try as an addition to my standard drop light when I work at night of on my vehicles or for many other uses. This is a cool light so when you need light in a tight place it will not burn your skin. This light does better than I expected providing a good light. In the picture below you can see that even though that the LEDs are in a long pattern it still provides a spot for tight locations as you can see on my door from 5" away at night. It is very light in weight - about a pound or so - and with the slip on magnetic adapter can hold in many positions and is fairly strong.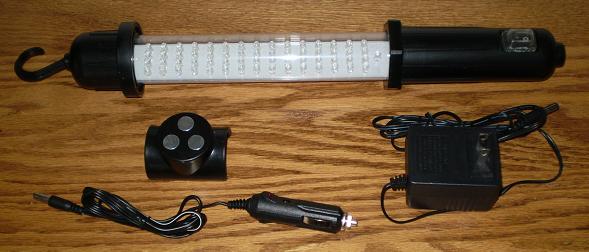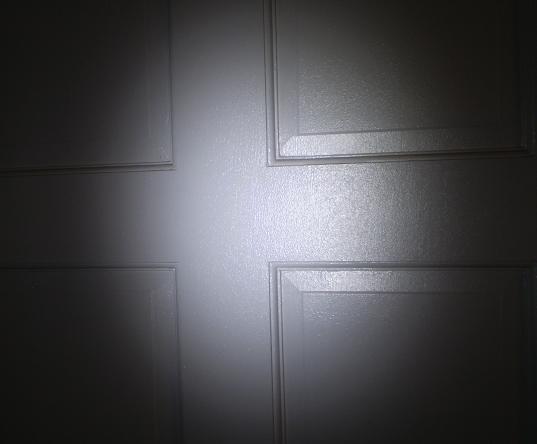 All in all this LED light exceeded my expectations and would recommend it as a good utility light for many uses around the retreat or in your vehicle due to its versatility.
Pike
---
www.alpharubicon.com
All materials at this site not otherwise credited are Copyright © 1996 - 2008 Trip Williams. All rights reserved. May be reproduced for personal use only. Use of any material contained herein is subject to stated terms or written permission.