THE ARRL HANDBOOK 2003
<![if !vml]>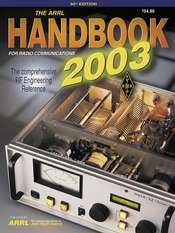 <![endif]>
When I recently picked up the newest edition (2003) of the ARRL Handbook, the first thing I noticed was that they had changed the subtitle from "For the Radio Amateur" to "For Radio Communications". This was done to reflect the fact that a large percentage of these handbooks are purchased by non-amateurs. Electrical Technicians and Engineers, Laboratories and Researchers often have a copy on their shelves. So with the 80th edition they made the slight name change to better appeal to the wider audience of active users. The book covers just about any major category of radio communications one can think of from Fundamental Theory, to Construction Techniques to Operating Practices. It is a excellent reference source for anyone with a question about radio. Off course for anyone with a very specific interest the ARRL has other books that deal with a more specialized subject, but for a starting point I would purchase this book first.
The book is published on a yearly basis, but since the soft cover copy I purchased retails for $34.95, I wouldn't purchase a new copy every year. The basic technology doesn't change that fast, most of the yearly changes are adding and removing projects. The new edition does have revised chapters, including ones on Modulation Sources and Digital Signal Processing, but I wouldn't run out to purchase it if I had last year's copy, unless I had a specific interest in the new material. Personally I have a hard cover edition from the 80's and a CD edition from the late 90's and much of the basic information is still the same. I would recommend for the average user that they purchase a new copy every 5 to 10 years unless they have a specific need. I might also recommend alternating between paper copies and CDs. CDs are archival and easy to store and duplicate (for back up purposes of copyrighted material), but for manuals of this sort it is also convenient to have a hard copy to thumb through at their workbench.
<![if !supportEmptyParas]> <![endif]>
The Down Side:
The only down side is the price, currently $34.95 soft cover, $49.95 hard cover, and $39.95 on CD.

Would WE Buy It?:
Definitely, any survivalist who is using or planning on using radio or actually any electronics equipment can benefit from having a copy of this book on hand.

Technical Specs:
The paper version has 1216 pages divided into 30 chapters plus index. The CD version fits on a single disc and contains audio clips and bundled software that can be down loaded from the website for those who purchase paper copies.

OTHER:
You can purchase the book at many book stores and electronics retailers that carry ham radio equipment, and of course it can be ordered directly from the American Radio Relay Leagues website, along with the myriad of other radio and electronics titles they publish or carry.
<![if !supportEmptyParas]> <![endif]>
---
Return To Product Reviews Page
---
Return to The Alpha Group Web Page
---

Send Warlord E-mail.
Address:

All materials at this site not otherwise credited are Copyright © 1996 -2002 Trip Williams. All rights reserved. May be reproduced for personal use only. Use of any material contained herein is subject to stated terms or written permission.