The ARRL Antenna Book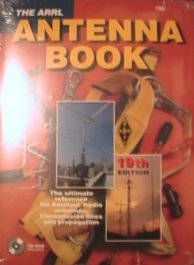 As any Ham Operator will tell you, when you need to know ANYTHING about Radios, the ARRL Antenna book is The Bible of the Radio world.

Whether you need to know about Radio theory, Antenna theory, propagation theory, or basic electrical theory, it's in the book! Also covered is how to make just about any antenna known to man, including step by step instructions and technical specs.

The ARRL has taken this classic book and made a CD ROM version of it too! There's now lots of interactive material available at your fingertips. Book or CD, the amount of info contained is overwhelming and a must have for anyone interested in disaster communications (or just plain fun with Ham radios ;)



Technical Specs:
BIG Book OR CD ROM available

OTHER:
I ordered both the book AND the CD some time back... shipping was prompt.
You might consider the book or CD a bit "pricey", but it's all the info you could ever want about Antenna how-to's, Radios, do-it-yourself-projects, theory, etc.

---

Return To Product Reviews Page

---

Return to The Alpha Group Web Page

---


Send Warlord E-mail.
Address:

All materials at this site not otherwise credited are Copyright © 1996 - 2002 Trip Williams. All rights reserved. May be reproduced for personal use only. Use of any material contained herein is subject to stated terms or written permission.