*Book Review: The Prepper's Blueprint*
By: Tooshie Galore
28 October 2016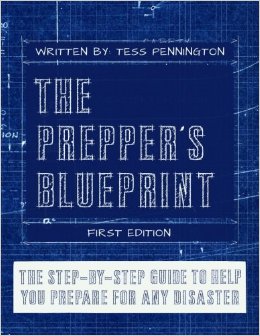 I purchased The Prepper's Blueprint by Tess Pennington as a Christmas gift. I'm always looking for ways to encourage family to get prepared and find that Christmas trinkets work well. Unfortunately, I don't find this book to be what I had hoped.
For less than $20 on Amazon, you get an 8.5" x 12" x 1" thick paperback published in 2014. All 462 pages weigh in at two pounds. This is a mountain-trove of resource material.
On top of that, the author has five-star qualifications for writing this book. She is the founder of Ready Nutrition, a blog and storefront that focuses on homesteading, food storage and self-reliance. She is formally trained in emergency and disaster management response with the American Red Cross.
It's an easy read. There's no fluff, it's direct and on point but it's a copy and paste from several of the author's blog postings which means there is a lot of repetition of information. It's self-published. A professional editing would be beneficial as there are several small missteps in grammar. Also, there are several pages with too much wasted space. This would probably be a 250-page book with professional formatting.
As for the content, however, it's really, really, good stuff. Each chapter begins with an article from current emergency-events – I like that – it makes it real. There is an abundance of checklists and each chapter ends with a list of preps to buy and actions items. There are loads of references and Internet URLs for more information sprinkled throughout. However, my favorite thing about the book is the way it's organized, by varying degrees of preparedness:
Chapters 1-14 prepares for routine disasters that with short-term effects that chiefly bring chaos and confusion to the unprepared: power outages, storms, injuries, and evacuations
Chapters 15-31 prepares for longer lasting disasters like economic collapse, systemic infrastructure outages, and pandemics.
Chapters 32-56 prepares for the long haul; after a disaster with a complete change of lifestyle. She includes acquiring food and water after supplies run out, retreat properties, and long-term planning.
The book is comprehensive. She covers every aspect of moving toward a more self-sustaining lifestyle and preparing for the unexpected.
In my opinion, this book is best suited for the person who has been working at prepping for about a year and is now looking for checklists as a way to get better organized. For anyone prepping three years or longer, the information is simply too basic.
The reason I won't be giving The Prepper's Blueprint as a gift is because of its sheer size and heft. My fear is that someone new to prepping will become overwhelmed and give up. The lists of "what to buy" are staggering and it lacks in information about "why" you need it and encouragement in training for "how" to use it.
The book says "First Edition" on the front. In my opinion it's a great start for a new author and with some tweaking could one day become the bible of all preppers everywhere.
Tooshie Galore
---
This Article Was Proudly Formatted For The AlphaRubicon Website By: AUFLISTER_GELIEBTE



www.alpharubicon.com
All materials at this site not otherwise credited are Copyright &copy 1996 - 2016 Trip Williams. All rights reserved. May be reproduced for personal use only. Use of any material contained herein is subject to stated terms or written permission.