*B&M Brown Bread*


The Raisin Varitety
By: hickory
07 March 2006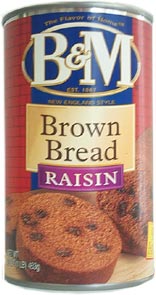 When I noticed that there was a potential group buy on canned bread, I couldn't help but take notice. "What the heck", says I, "bread in a can… that defies all logic and even the natural order of things." I went looking for some info concerning this bread on our beloved Rubicon, and not finding any, decided I must do something about that.
I went to my local grocery store with the intent on buying the Brown Bread and the Brown Bread with Raisins. They only had the one with Raisins. The cost was $2.55, not cheap when compared with a loaf of cheap bread… but a regular loaf of bread can't sit at room temp until Jesus comes back.
So, to the kitchen I go… out comes the can opener… I open both ends, as the directions state and the bread slides out, with a bit of shaking. It actually looks good too, frankly I was surprised. Simply looked like a heavy brown bread… duh! I whip out the knife… not any knife, but a table knife, I was interested in how easily it would slice and whether it would crumble into pieces unless I used a "good" bread knife. Again, to my surprise, it sliced easily and did not crumble. I cut off 5 slices and put them in the toaster oven to warm them up. The smelled good as they warmed up. I pulled them out and took a bite before I put butter on… after all, if you put enough butter on anything it is good. J Tasty… even without butter! I buttered them up and offered one to each family member… I had to see if this passed the family taste test… after all, no reason to store something that only I will eat. Everyone loved it!
Bottom Line: This is a good product. I would recommend it to anyone who wants to be able to store some bread without using up all that room in your freezer. While the price is more then the cheap bread in the store, it will store for a long time, where your normal bread will go bad in a week. I know I will be adding it to my preps, it will cut the bread in my freezer by half. Happy eating!
hickory
---
www.alpharubicon.com
All materials at this site not otherwise credited are Copyright © 1996 - 2006 Trip Williams. All rights reserved. May be reproduced for personal use only. Use of any material contained herein is subject to stated terms or written permission.