Boston on Surviving Y2K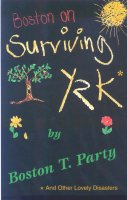 If you're new to the concept of Y2K survivalism and need a jumpstart primer, or if you've been preparing and have hit a planning plateau, this is the book to buy! Boston T. Party covers the basic concepts of the Y2K problem in layman terms, along with everything you need to know to go from plan formation to implementation. I've spent the past two years scouring the Internet with a fine-toothed comb to obtain relevant facts on Y2K to share with visitors to my website; you can find virtually all the same information in this 300+ page book. In keeping with the most basic tenet of survivalism, Boston advises to prepare for the worst case scenario then describes the probabilities associated with both ends of the spectrum.

Topics include:
Why Y2K may spell disaster - and other looming storms
Where we are in terms of compliance and testing (government, private business, public utilities, etc.)
The best (and worst) locations for riding out the possible storm - and why
Food, clothing, water, shelter, medical care, alternative energy - what you need and where to get it, including
Preparations timetable
Lists, lists, lists
...and dozens of other subjects! If you want to get up to speed, or just tie up loose ends and find web-surfiing unsatisfactory for filling in the gaps, Surviving Y2K can help you get back on track.


The Down Side:

The only one I can think of is that it's not a complete survival encyclopedia set. You'll still need a few other books on specific skills, techniques and procedures like canning, animal husbandry, etc. - but this is the book for covering the big-picture bases.


Would WE Buy It?:

Absolutely, positively, and without a doubt! This is another one of those "investment" books that's invaluable for all survivalists regardless of the disaster you're preparing for.


Technical Specs:
300+ pages
25 chapters
5.5" x 8.5"

OTHER:
You can order this book directly from Paladin Press at their website. To visit the Paladin Press website, or read more about Boston on Surviving Y2K, just click on the addy below!

---

Return To Product Reviews Page

---

Return to The Alpha Group Web Page

---


Send Warlord E-mail.
Address:

All materials at this site not otherwise credited are Copyright © 1996, 1997, 1998, 1999, 2000 Trip Williams. All rights reserved. May be reproduced for personal use only. Use of any material contained herein is subject to stated terms or written permission.