Buckshot's Modern Trapping Guide
By Bruce "Buckshot" Hemming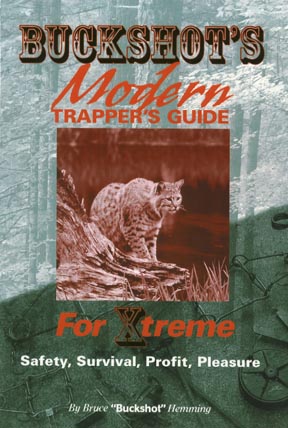 This is one of the most complete trapping book ever written, without a doubt! Detailed photos take you step by step through successful trapping techniques. Learn the best sets for Beaver, muskrats, mink, otter, etc. Buckshot shows sure fire sets for Raccoons, fox, coyotes, bobcats, and many others!.

Chapters include:
Tanning covering commerical,
Emergency tanning,
Homemade tanning solutions and bark tanning.
Detailed report from The Fur Harvester Auction house on how to get top dollar for your fur.
Detailed track section to show you who is making the tracks.
A complete recipe chapter, (this alone is worth the price of the book).
Animal rights = Animal wrongs. Learn about attacks on children and pets. Learn how endangered species are threatened with extinction because of too many predators and much much more.

If you're a suvivalist, these are skills you NEED to know!



The Down Side:
None... period. VERY well written with great photos!

Would WE Buy It?:
Oh YES!. I consider it a "Must have" for your survival info library!

Technical Specs:
Paperback
10 chapters
186 FULL pages +index
50+ Photos!
Only $15.95, the first 100 orders will receive free shipping... Order yours today!

OTHER:
You can order this book directly from Buckshot at his website. To visit Buckshot's website, or read more about The Modern Trapper's Guide, just click on the addy below!
Http://www.logicsouth.com/~lcoble/buckshot
Or write to:
Buckshot's Trapping Supplies
P.O. Box 482
Houghton, MI, 49931
906-482-2831

---

Return To Product Reviews Page

---

Return to The Alpha Group Web Page

---


Send Warlord E-mail.
Address:

All materials at this site not otherwise credited are Copyright © 1996, 1997, 1998, 1999, 2000 Trip Williams. All rights reserved. May be reproduced for personal use only. Use of any material contained herein is subject to stated terms or written permission.