Close Combat
by:U.S. Marine Corps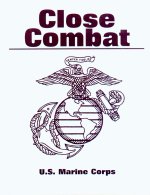 This is an excellent reprint of the U.S. Marine Corps' most recent "Close Combat manual" Dated 18 Feb 1999. It's an excellent reference guide and "how to" manual for learning Hand to Hand fighting, disarming opponents, Bayonet techniques, knife fighting and many other areas that a Marine must be proficient with to win on the world's Battlefields!

As bad as us Army people HATE to admit it, the Marines are no-nonsense fighters, every soldier is a rifleman, everyone fights. This is the manual that helps them stay alive!


Technical Specs:
Paper Back
11 x 8.5 inches
8 chapters, many sub-chapters, and 2 Appendices
MANY pictures and Drawings
Chapters Cover:
Fundamentals of Close Combat (8 sub-chapters)
Lethal and Nonlethal Weapons Techniques (4 sub chapters)
Hand-Held Weapons (8 sub-chapters)
Strikes (5 sub chapters)
Throws (3 Sub-Chapters)
Chokes and Holds (3 Sub-Chapters) Ground Fighting (3 Sub-Chapters) Nonlethal Techniques (2 Sub-Chapters)

OTHER:
You can order this book directly from Paladin Press at their website. To visit the Paladin Press web site, or read more about Close Combat just click on the addy below!
http://www.paladin-press.com

---

Return To Product Reviews Page

---

Return to The Alpha Group Web Page

---


Send Warlord E-mail.
Address:

All materials at this site not otherwise credited are Copyright © 1996, 1997, 1998, 1999, 2000 Trip Williams. All rights reserved. May be reproduced for personal use only. Use of any material contained herein is subject to stated terms or written permission.