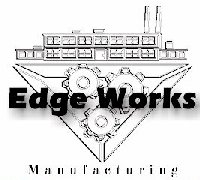 Many of you who know me know my theory on knives and sheaths; for those of you who don't know me, here it is:

"Most makers of good knives concentrate almost entirely on makinggood knives, and toss a sheath in as an afterthought."

In my opinion, this is as it should be. I want my knife to be the best I can afford to have, therefore, I will go to a company that is dedicatedto making knives to get a better knife. The same holds true with the sheath. If I want an excellent sheath to hold my excellent knife, I'll go to a dedicated sheath maker... enter Edge Works.

While at the Preparedness Expo in Alanta this month we met Robert Trombleyand Robert Foster. Upon finding out that we had a Ka-bar in our purchasesthey immediately handed me one of their sheaths for review. Their parting words to me were "be sure to abuse it now". CONFIDENCE! You all know how we like confidence. Being an Engineer I know that when the MAKER is confident, YOU can be confident, because the maker knows all the little flaws that could go wrong. These two fine gentleman had my attention, but they didn't give me a long hard sales speech; they were content to simply let the product do the talking.... and it speaks volumes!!!

First off, let me say that every line of this sheath says "professionalism".It is one of the best systems I have encountered in my time, both as Special Forces military, and as a survivalist. Construction is superb, and attention to details makes this a VERY nice setup for Military, Police or Survivalists (as you will see).

These guys use a three point locking system. This is important because the best knife to use in an emergency is the knife you have with you. Thesheath is so well made that the knife snugs down into the formed Kydex andstays put. You can turn the sheath over, shake it, and the knife doesn't fall out. The form fit means that they didn't have to use a pressure blockinside the sheath that rubs (and ultimately scratches the finish) on the knife. The second lock is a webbing thumb strap over the cross guard of the knife, and the third lock is a snap strap around the hilt. This last snap can be instantly adjusted for either left or right hand use!

The sheath we were given is an adjustable low riding, tactical model, with a quick release buckle that allows you to take the knife off your web gear WITHOUT undoingthe suspenders. It has leg straps to secure the sheath in place. This is an often overlooked area with sheaths. But it is VERY important that your knife stays in one place so that your hand knows where to find it immediatelywithout looking. Another great feature is that you can put the knife inwith the edge facing in either direction, unlike many sheaths that, by design,force you to put the knife in in only one direction! I don't even have to remark about the toughness of Kydex, but the way the guys at Edge Works engineered this system makes it even MORE tough.

This model also supports the "Piggy back" pouches system.By carrying a Leatherman Survival Tool in one pouch affixed to the sheath,and a lighter in the other, you have an awesome survival combination in one package!

Be SURE to hit their web site at www.tacticalholsters.com and see all their models of Kydex sheaths and holsters.



The Down Side:
If there is one, we haven't found it. There have only been a few productsso far that we have reviewed that didn't have a down side... this is the second.

Would WE Buy It?:
Oh yes. 'nuff said there.

Technical Specs:
I got a letter today from Robert Trombley with Edge Workssaying he would send me technical specs on Kydex versus leather and plastics, so I'll get that up when he sends it. Otherwise the specs on this model sheath are:

Overall system length at full out adjustment: 22 inches
Overall system length at minimum adjustment: 19 inches (On web gear)
Kydex sheath length(minus webbing) is: 11 inches
Kydex sheath width (at widest point): 3 inchs
Color: grained matt black
Construction: rolled rivets, reinforced with washers

OTHER:
Design also incorporates a water drainage system.
Comfort against the leg is excellent during extended wear.

---

Return To Product Reviews Page

---

Return to The Alpha Group Web Page

---


Send Warlord E-mail.
Address:

All materials at this site not otherwise credited are Copyright © 1996, 1997, 1998, 1999, 2000 Trip Williams. All rights reserved. May be reproduced for personal use only. Use of any material contained herein is subject to stated terms or written permission.