Fighting Skills of the SAS
by:Mike Robinson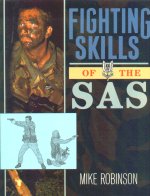 Talk about getting a "two for one" deal! When I saw this book I was expecting to have to sift through some boring, rehashed history of the SAS, I was pleasantly surprised! Not only is this excellent book a well written and easy to read Narrative of the SAS, it's a complete Survival and "How To" Book also! Author Mike Robinson is well known for his many other books on Special Operational Forces around the world.

Each topic is covered in detail, how to pull off cold weather operations, small unit tactics, desert work, rappelling, general survival, basic medical, chemical operations, Signals, radio work, weapons, staying hidden, booby traps, handling guerrilla troops, and much much more!!!! I stayed up all night reading this book and couldn't put it down!

The exotic pictures really set the book off well and each diagram of tactics is well presented. The information is top notch, not the usual "I was with em and killed a hundred people" type thing at all. You REALLY get your money's worth from this book! You'll be impressed (and educated!)





Technical Specs:
Paper Back
9.5 x 7.5 inches
192 pp
16 Chapters plus Glossary
Chapters Include:
Joining the SAS
Weapons Skills
Explosives and Sabotage
Counter terrorist Tactics
Fighting as a Four Man Team
Silent Killing Techniques
Medical
Observing The Enemy
Signals and Radio Skills
Behind Enemy Lines
Staying Hidden
Specialist Insertion Methods
and others!

OTHER:
You can order this book directly from Paladin Press at their website. To visit the Paladin Press web site, or read more about Fighting Skills of the SAS just click on the addy below!
http://www.paladin-press.com

---

Return To Product Reviews Page

---

Return to The Alpha Group Web Page

---


Send Warlord E-mail.
Address:

All materials at this site not otherwise credited are Copyright © 1996, 1997, 1998, 1999, 2000 Trip Williams. All rights reserved. May be reproduced for personal use only. Use of any material contained herein is subject to stated terms or written permission.