Advanced Fighting With Firearms
By Andy Stanford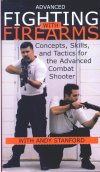 If you've been in the shooting community very long, you've doubtless heard the name "Andy Stanford". His newest Video, Advanced Fighting With Firearms is a sequel to his first video by the same name. Watch this video and you'll get to see why his name is recognized whenever the subject of weapons arises.

This video is fast moving and packed with great tips, "How to" advice, Concepts and tactics for the combat shooter. Andy uses his head when it comes to new methods of shooting and tactics, and all of that knowledge is used to give YOU the edge when using a firearm in combat or self defense.



The Down Side:
As is ALWAYS the case, you can't just watch the video and expect to be proficient with firearms, The skills shown on this tape must be practiced!!!

Would WE Buy It?:
Yes, It's a typical "Andy Stanford" quality production. Andy uses real world situations to demonstrate his points, and his reactions to the threat.

Technical Specs:
VHS, Video Cassette, in hard storage case
Approx 75 minutes
Color

OTHER:


You can order this video directly from Paladin Press at their website. To visit the Paladin Press website, or read more about Advanced Fighting With Firearms, just click on the addy below!
http://www.paladin-press.com

---

Return To Product Reviews Page

---

Return to The Alpha Group Web Page

---


Send Warlord E-mail.
Address:

All materials at this site not otherwise credited are Copyright © 1996, 1997, 1998, 1999, 2000 Trip Williams. All rights reserved. May be reproduced for personal use only. Use of any material contained herein is subject to stated terms or written permission.