*Bench Test And Review Of The First Need Xl Water Purifier*


By: Grundy
9 November 2011

After looking at my family's needs with regards to portable water purification, I decided to try the First Need XL. It is a pump operated water purifier that boasts chemical free removal of giardia and cryptosporidium, as well as a gravity filtration mode. The unit and all accessories are marked as USA made. Filters are rated for 150 gallons, but that will vary by the purity of the feedwater.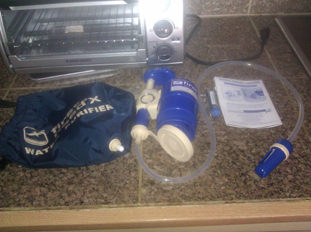 My initial impression on receipt was positive, with the unit appearing to be of sound construction. It is made of strong, hard plastic with rubber connections and a silicone feed hose. The weighted feed end of the hose includes a very fine mesh screen to prefilter large debris. The filtration cartridge is a sealed cylinder. Full disassembly can be completed by pulling a ring pin. No tools are required.
The storage bag includes a plastic liner and nipple to use as a feed reservoir for gravity filtration. A small bottle of blue food dye is included for integrity testing. There is a provision for backflushing to clear the filter of clogs and to chlorinate for storage. The instruction booklet is concise and complete.
This device is designed to screw onto the opening of two sizes of water bottle and adapters are available (I plan to buy them.) The included sizes on the base device fit a Nalgene/Camelback or a Gatorade bottle. For the test, I used one of the kids' Bubba bottles.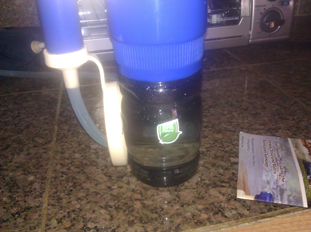 I performed a bench and food dye check, followed by a chlorinated water backflush. The dye test was very satisfactory. No dye was visible in the effluent, which had no taste or odor. The feedwater was tapwater, which usually has a faint chlorine odor. None was present in the effluent. The pump is double acting and requires very little effort. Action is smooth.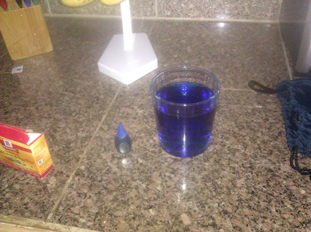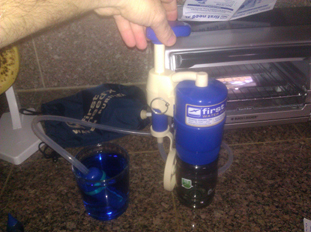 I performed the backflush per the directions, using chlorinated tapwater. Some dye was backflushed free. Disassembly and reconfiguring for backflush was simple and the hose connections were firm and leak-free.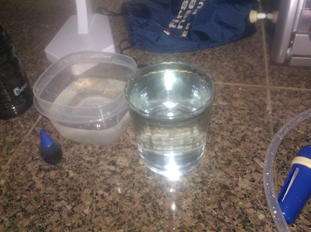 The First Need is a large unit when compared to other, more common filters. It is also heavier, and replacement parts are harder to find in stores. The purifier and all parts are available online.
I recommend it without hesitation and encourage further testing. It will definitely take up more pack space than the competition, but is robust and simple to use.
Grundy
---
www.alpharubicon.com
All materials at this site not otherwise credited are Copyright © 1996 - 2011 Trip Williams. All rights reserved. May be reproduced for personal use only. Use of any material contained herein is subject to stated terms or written permission.