*Goal Zero Nomad Panels*


By: Landwire
25 June 2014

Earlier in the year, I picked up two Goal Zero Nomad Panels. These are foldable solar panels that are 7 watts each. Up to 4 panels can be daisy chained together. Goal Zero makes a variety of different portable solar panels setup that is geared towards the outdoor enthusiasts. Be it camping, a day on the water, a hike, etc… On a per watt basis, they are really expensive. It would be really cost prohibitive buying them to run your house off of them. However, on the flip side, they are really portable. Goal Zero also makes a variety of different battery/power packs that can be charged. These battery/power packs can then be used to run a variety of different items or to even charge them.

On a recent Scout camping trip, I took along my two panels to see how well they work. Just as the sun was rising in the morning, connected the two panels together to charge up my nearly dead cell phone. The phone said I had 5% power left. I placed the panels and the phone at the edge of a picnic table. After about 30 minutes, when the rest of the patrol woke up, I moved the panels and the phone to my chair. I had the chair orientated to the rising sun. Within 90 minutes, my phone was completely charged to 100%. I was impressed.

Like I mentioned before, the panels can fold up. Once folded up, they take up little room. Goal Zero has a number of accessories that can be connected. LED lights, speakers, cables, etc… The battery back I have can charge 4 AA batteries. The website claims it can charge the battery within 3-6 hours. That is just from one 7 watt panel. With 2, I would surmise it would go a lot faster. Next trip out, I will try out the battery pack and different batteries to see how well it works.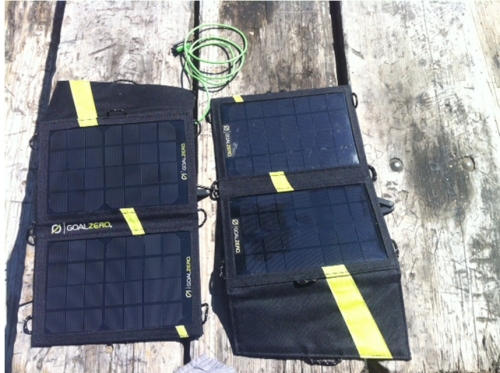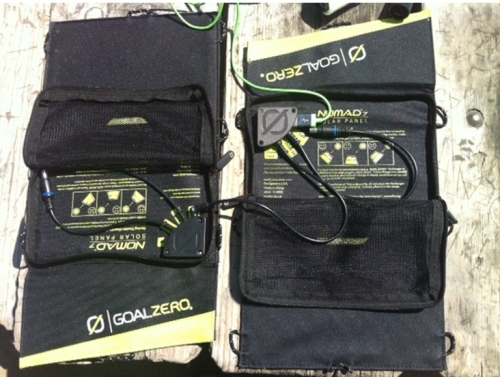 Landwire
---
This Article Was Proudly Formatted For The AlphaRubicon Website By: Coffeehound



www.alpharubicon.com
All materials at this site not otherwise credited are Copyright &copy 1996 - 2014 Trip Williams. All rights reserved. May be reproduced for personal use only. Use of any material contained herein is subject to stated terms or written permission.