High Tech Harassment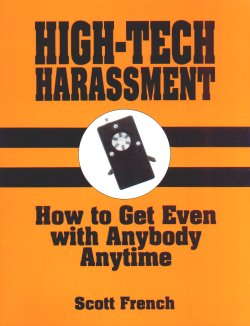 This book contains tips, tricks, plans and information on making your enemies pay for their abuse. It's filled with plans to cheaply build high tech items like "Sonic disruptors" that will make people you dislike flee your home and never know why they are "uncomfortable" being there.

This book also contains advice on basic computer usage, computer defense, and negotiating the web securely.

Chapters include:
High-Tech Personal Revenge
Acoustic Craziness
Optimum Optics
Telephones & Answering Machines
Paint by Wire
TV Joker
No More Cosby Reruns
Pager Hassles
Bringing the War Home
Dozens and Dozens of Ways to Drive Anybody Crazy
Substance Based Revenge
Corporate Takedowns
Suppliers
And many others!

Excellent information resource!



Technical Specs:
157 pages, paperback.
8.25 inches X 11 inches
Illustrations and Pictures

OTHER:


You can order this book directly from Paladin Press at their website. To visit the Paladin Press website, or read more about High Tech Harassment, just click on the addy below!
http://www.paladin-press.com

---

Return To Product Reviews Page

---

Return to The Alpha Group Web Page

---


Send Warlord E-mail.
Address:

All materials at this site not otherwise credited are Copyright © 1996, 1997, 1998, 1999, 2000 Trip Williams. All rights reserved. May be reproduced for personal use only. Use of any material contained herein is subject to stated terms or written permission.