*ICF Review*
Foam Building Blocks
By: Jaden
09 October 2010
We recently bought and used foam building blocks for a 24'x36'x4' foundation. The cement is 6" thick. They are ARXX brand www.arxx.com and are made in Canada. For those dimensions the delivered price with rebar was $1,935. There is 2" of foam on either side of the cement wall so it's well insulated.
Although there is some assembly required they take no time to put together and get ready to stack. They stack together REALLY easy and with somebody putting the connector pieces in and another person stacking blocks and putting in rebar it doesn't take long at all to get a wall built.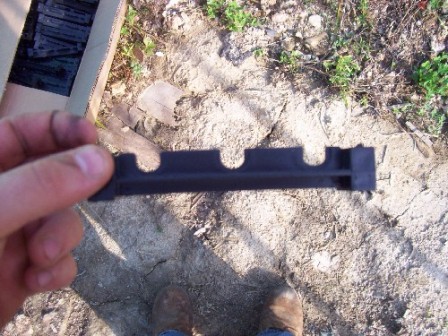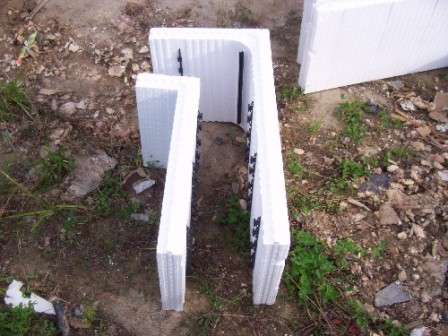 6" connector, unassembled corner block
The connectors simply snap in to place, very very easily. They are notched on the top for rebar to sit in.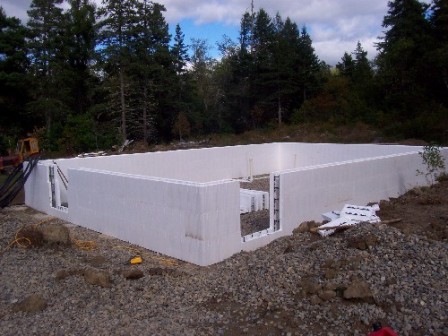 Nearly ready for cement.
We've never used blocks before so it was a learning experience. Will we use them again? Most definitely. When it comes time to do the garage we'll be using ARXX blocks for it.
Two thumbs up!
Complete articles are inside the Rubicon.
Jaden
---
www.alpharubicon.com
All materials at this site not otherwise credited are Copyright © 1996 - 2010 Trip Williams. All rights reserved. May be reproduced for personal use only. Use of any material contained herein is subject to stated terms or written permission.