*Black and Decker 300 Amp Jump Starter*


Reviewing Something You Need
By: Helimech
26 March 2008
Update: 24 June 2009

Your sound asleep, then it happens.... the NOAA All Hazards Radio SAME goes off. You wake up slowly and stammer about to determine why the radio is on. The weather isn't supposed to be bad; you just know that this can't be good. Then your brain starts to function properly and you hear it; a train derailment and major chemical spill is upwind from you position and authorities are starting to evacuate. You've got about 30 minutes to get your supplies and go. Your spouse grabs the kids, you grab the short term "ticket," won't be gone too long, just a couple of days. As you head out the door the phone rings, it is the new reverse 911 your area just got, alerting you to what you already know. After you load everything in your Primary BOV and start to pile in a sickening feeling comes over you; the dome light is no longer on. You stick the key in the ignition and turn it... nothing. Crap the battery has chose the absolute worse time to die.

Now you have two options, unload all the "ticket" items, and put them in the other car, or grab your Black and Decker Start-It 300 Amp Jump Starter fire up your Primary BOV and go.

As you can probably tell, this is a review of the Black and Decker 300 Amp Jump Starter. I have owned this unit about 2 months. ALERT: the following is Facta Non Verba.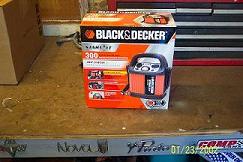 Ignore the date, picture taken February 2008
When you first buy the unit is comes in a box like this. The box is very sturdy and holds the Start It unit, charging cords and an instruction manual.
The manual states that you must charge the unit for 48 hours using 110VAC before using, I can verify this. I let it charge about 24 hours then checked the charge gauge, it showed full so I used it to start my lawn tractor. It worked, but the battery in the unit was at half charge afterwards. I then charged it for a full 48 hours and tried it again. Worked perfectly and retained a full charge.
About 2 weeks after buying the unit I had a chance to check out the charge duration after I had a wiring short in my truck that allowed it to crank, but not start. While trying to diagnosis the problem I cranked the truck (5.3L V-8) 10-15 times with the door open and the dome light on. The unit finally ran out of juice, but it took longer than the actual battery in the truck which is only 18 months old.
My father-in-law, who owns an auto repair shop, has the larger 450 amp unit and has used it for several years with no issues. This includes starting 2-3 cars a week with it. I let the unit sit about a month with no charge and checked it. It had lost a little, so I would recommend a top-off charge every month for safety sake.
Another neat feature is the cigarette plug that allows you to power other 12 VDC items when needed.
All in all, this is a great little unit and I would recommend it to everyone how does not already have a Jump Starter. You never know when you WILL need it.
June 24, 2009 UPDATE:
In my original article I stated,"I let the unit sit about a month with no charge and checked it. It had lost a little, so I would recommend a top-off charge every month for safety sake." Since that time, I ran an experiment and wanted to see just how long I could go and still start a car. I top charged the unit during the first week of January and then let it sit in my non-climate controlled garage. As I write this, it is June 23; last night I pulled the unit and checked it. It had not lost anymore than the original amount it lost the first month. In fact, it started my tractor just fine and still showed plenty of juice afterwards. That is great, 6 months and still reliable, my type of product.
Helimech
---
www.alpharubicon.com
All materials at this site not otherwise credited are Copyright © 1996 - 2009 Trip Williams. All rights reserved. May be reproduced for personal use only. Use of any material contained herein is subject to stated terms or written permission.