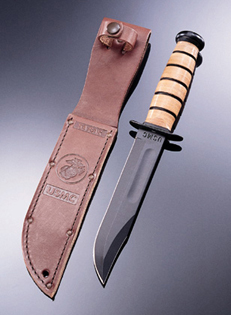 Updated 4-18-00!
If they are genuine Ka-bar knives they are damn near indestructable! Great for general field use and the price is right. We've chopped, thrown, pried, dug, split wood and opened cans with 'em. We've used 'em as steps on cliff walls, and sometimes we even used 'em to cut with.

You've probably read the stories about how I split firewood for the camp fire, I stand the log on end, lay the knife across the end of the log, and then pound the knife down through it with another log. My Ka-Bar has withstood MANY years of this abuse. If you're scared to try that with your knife, then you need a Ka-Bar.

For the money they are FANTASTIC. We highly recommend them for survivalism.

As of this updated writing (4-18-00) we haven't yet had the opportunity to test the new Ka-bar knives, but when we do, you'll see it here!
Their web site is: http://www.ka-bar.com/

The Down Side:
The sheaths for these knives used to be kinda cheesy. They were a stamped flat leather sheath that only let the knife go in one way and it was hard to get on and off standard Web gear. We got an aftermarket sheath from Edge Works (see main reviews page) and that made the system MUCH better. Now Ka-bar uses the EdgeWorks sheaths and that makes this system FANTASTIC!

Would WE Buy It?:
YES! We have bought Many!

Technical Specs:
Blade length 7" overall 11 7/8"

Oval handle constructed of compacted leather disks, smoothed and polished

High carbon steel (1095) blade, black epoxy powder coated, buff polished, razor sharp edge, HRC 56-58

Powdered metal butt cap, carboin steel guard, both powder coated

Cowhide sheath with U.S.M.C. "Eagle and Globe" crest included

Other:
We were dead on about the rumor that Ka-bar was switching to a better sheath system, they went with the "Edge Works" sheaths like we use. In our opinion, these are some of the best sheaths money can by.

---

Return To Product Reviews Page

---

Return to The Alpha Group Web Page

---


Send Warlord E-mail.
Address:

All materials at this site not otherwise credited are Copyright © 1996, 1997, 1998, 1999, 2000 Trip Williams. All rights reserved. May be reproduced for personal use only. Use of any material contained herein is subject to stated terms or written permission.