Leatherman Pocket Survival Tool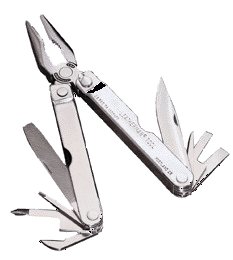 This is the original LEATHERMAN® that started the pliers-based multi-tool phenomenon and is still the best-selling product of its kind. It's a compact toolchest you can hold in your hand, yet it packs a dozen essential tools in one. We all bought these several years back and have been using them ever since. They are comfortable to use and VERY rugged. They are solidly built and do not flex in your hands.



The Down Side:
The Pliers portion doesn't meet square at the tip. We have seen some types of this multi-tool that could pull a hair.

Would WE Buy It?:
YES, we have many, and expect to purchase many more.

Technical Specs:
The Pocket Survival Tool weighs just five ounces and is made in the USA of 100% stainless steel. Each individual component is treated to achieve the optimum grade hardness for its use.
Tools & Blades
Needlenose Pliers
Regular Pliers
Wire Cutters
Hard Wire Cutters
Clip-Point Knife
Metal/Wood File
8"/20 cm Ruler
Can/Bottle Opener
Small Screwdriver
Medium Screwdriver
Large Screwdriver
Phillips Screwdriver
Awl/Punch

Length
4"/10 cm closed
6.25"/16 cm open


Weight
5 ounces/142 grams


OTHER:
This product comes with a 25 year guarantee!

---

Return To Product Reviews Page

---

Return to The Alpha Group Web Page

---


Send Warlord E-mail.
Address:

All materials at this site not otherwise credited are Copyright © 1996, 1997, 1998, 1999, 2000 Trip Williams. All rights reserved. May be reproduced for personal use only. Use of any material contained herein is subject to stated terms or written permission.