Legends and Reality of the AK
by:Val Shilin & Charlie Cutshaw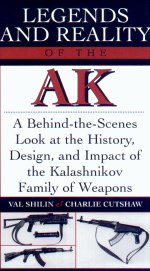 I have to say, Paladin Press has Impressed me this month! They sent me a stack of no BS books to review, and I mean NO BS!

Everyone knows of my love for the AK-47 style family of weapons, I thought I knew every one ever made in detail and all of the spin offs... I wasn't even close!

This BIG book is THE most definitive work of EVERY style of AK ever created. Nothing is left out. Val Shilin was a close associate of Mikhail Kalashnikov at the Izhmash Arms Factory, And Charlie Cuttshaw is a noted small arms expert. Together they have brought this fantastic weapon to life in the pages of this excellent book.

The sheer number of AK variants and spin off's will amaze you! "Secret guns", "special project Guns", the evolution of different styles, it's all in here in pictures and easy to understand text. This book has blueprints, specs and even a look at the weapons that will soon supersede the AK on the battlefield.

I you want to know everything about the evolution and the legend that is the AK-47, THIS book is where it's at!



Technical Specs:
paper back
11 x 8.5 inches
188pp
HUNDREDS of photographs!
7 BIG chapters including:
Historical Background
Improving the Breed (Experimental Rifles and Machine Guns)
Sniper Rifles
Submachine Guns
Secret History of the AN-94 "Abakan"
Pistols

OTHER:
You can order this book directly from Paladin Press at their website. To visit the Paladin Press web site, or read more about Legends and Reality of the AK just click on the addy below!
http://www.paladin-press.com

---

Return To Product Reviews Page

---

Return to The Alpha Group Web Page

---


Send Warlord E-mail.
Address:

All materials at this site not otherwise credited are Copyright © 1996, 1997, 1998, 1999, 2000 Trip Williams. All rights reserved. May be reproduced for personal use only. Use of any material contained herein is subject to stated terms or written permission.