Live Off The Land In City Or Country
by Ragnar Benson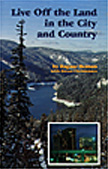 This book was obviously written especially for survivalists and retreaters in the typical Ragnar Benson style. It offers very practical views on survival and living in the wild. Ragnar Benson makes a very important distinction between "Realist Survivalists" (like most of us) and "Purist survivalists" (who will mostly die off). Being a purist is fine for camping and short weekends, but when TSHTF, you want EVERY advantage you can muster on your side... enter realism! This books gives the "how-to's" and lessons learned from old Indian secrets and even advice on survival medicine, caching, firearms, preserving food, diesel power generation and LOTS more. Interesting stories and ancedotes about the wildman of the clearwater, and the Nez Perce Indians story make this book entertaining as well as informative.



Technical Specs:
Book size is 5 1/2 x 8 1/2, hardcover, w/photos and illustrations, 272 pages.
ISBN 0873642007

OTHER:
You can order this book directly from Paladin Press at their website. To visit the Paladin Press web site, or read more about Live Off The Land In City Or Country just click on the addy below!
http://www.paladin-press.com

---

Return To Product Reviews Page

---

Return to The Alpha Group Web Page

---


Send Warlord E-mail.
Address:

All materials at this site not otherwise credited are Copyright © 1996, 1997, 1998, 1999, 2000 Trip Williams. All rights reserved. May be reproduced for personal use only. Use of any material contained herein is subject to stated terms or written permission.