*Lazy Woman's Guide to Couponing*
By: TooshieGalore
21 August 2014
I'm lazy. There, I've said it. I accept that one small flaw in myself....;-)) But being lazy means that I find alternate ways of doing what I need and these days I need to save money while meeting my goals for stockpiling.
Here's one plan for hassle-free, time saving couponing to save money while increasing your food, hygiene, office, and healthcare supplies.
I like www.couponmom.com I sign up for the email alert from that site. Usually on Thursday, I'll receive an email that looks like this: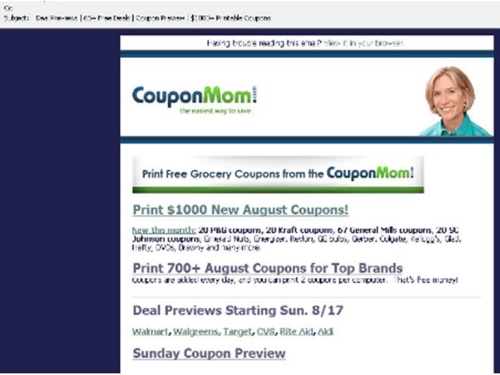 I click on the "Deal Previews Starting XX/XX" which will be the deals starting the coming Sunday. You'll see a screen that looks like this: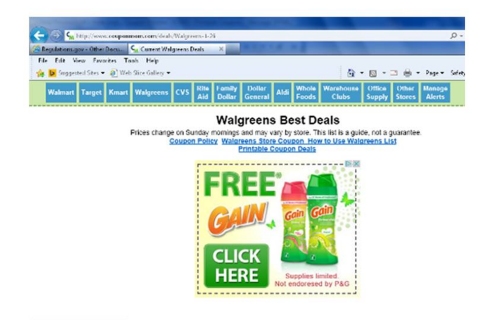 Notice the store names listed across the top. I look for the stores closest to my normal travels about town. I don't make special trips and I don't waste gas running all over town, but if a store is on my way then I select that tab to see what they have on save this week. You'll see a screen with their deals, It looks like this: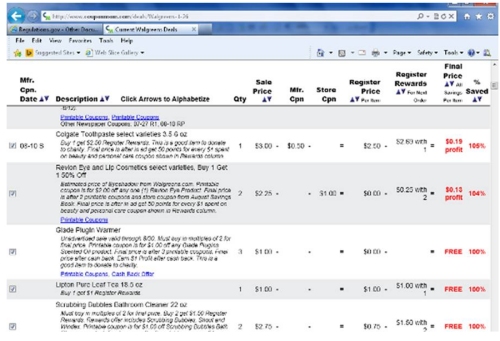 What's nice about this website is that they often have downloadable coupons to print or load to your phone. I don't spend hours clipping and saving coupons from the newspaper.
Next, I'll select the box next to the listed items I'm interested in. I'm only interested in items that I use and can save at least 75% over the price I would normally pay for it. Or items I can same 100% on (it's free) even if I don't use it but might be able to barter. Then I have the option of printing the list with just my selected items. I'll do this for each of my near-by stores.
Now I compare stores. Lots of times, a better deal at one store on an item will be obvious.
Now that I know which items I'll be buying from which stores, I download the coupons that I need. I shop on Sunday morning.
In my area, stores like Walgreen's and Wal-Mart are open 24-hours. Shopping after midnight on Saturday night or near the store's opening-time on Sunday morning is best to assure that the store has a good quantity of items. If it's a good deal on a well-known, valuable item, the store will sell out quickly. By Tuesday I can almost guarantee they are sold out of all deals.
There are many more websites like CouponMom. Check for them on the Internet.
Of course, the strategy behind couponing means that you are buying items that you don't need, which sounds counterproductive. But, it also means that you never "need" anything, thus you are only buying when items are on sale and never paying full price for anything. I save on average about 70-75% on coupon items.
If you can afford to invest, about $200 on things you don't need, then I guarantee that by the end of the year you'll have a sizable stockpile of your normal-use items and you won't "need" anything and won't pay full price for it.
One important note is that most stores have a sign-up that you have to do. So if you're not already "registered" on their VIP or coupon or preferred (whatever they call it) program, you'll also need to get registered with your near-by stores. I register each family member separately as sometimes the deals are really awesome and this allows me to get 4x the limited quantities.
So on Thursday, it takes me about 20 minutes to survey my stores, make a plan and download needed coupons. I generally limit myself to three stores, with those stores being along my normal direct driving route. As I work on Sundays, I just leave the house about an hour and a half early to have time to shop without rushing.
I generally spend around $20 out-of-pocket every Sunday on things I don't need. I also spend about $40 every-other week at my normal grocery, on items I do need. Plus, I normally spend $100 every 4 to 6 weeks at Sam's Club on bulk food, milk, meats and household seasonal items. This, plus what we eat from the garden and orchard rounds out my household budget on such things for a family of four and some occasional entertaining.
I spend far less than other families that I know. However, it took me about 14 months to get my initial stock to the point that I can do this. It requires patience and a plan. But it's worth it to me.
So, here it is Thursday...run over to couponmom.com and check it out to see if it might work for you. Maybe I'll see you in the aisles on Sunday morning.
TooshieGalore
---
This Article Was Proudly Formatted For The AlphaRubicon Website By: Coffeehound



www.alpharubicon.com
All materials at this site not otherwise credited are Copyright &copy 1996 - 2014 Trip Williams. All rights reserved. May be reproduced for personal use only. Use of any material contained herein is subject to stated terms or written permission.