*Maxfire LX Tactical Light*


By: Templar
12 September 2006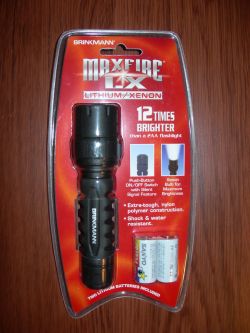 This tactical light is a cheap alternative to the more expensive "tactical" lights on the market. I found this light at WalMart for $20 after a co-worker mentioned it to me. I bought 2 of the lights. I carry one on duty as a backup light and the other I decided to test out.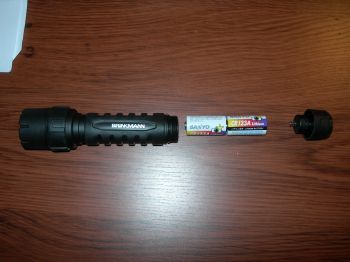 This light is powered by two CR123A lithium batteries. The package says it is shock proof and water resistance. The outer shell of the light is made of some type of polymer based material. The grip is a rubber material. My test consisted of four parts; brightness, shock resistance, water resistance, and continuous run time.
Brightness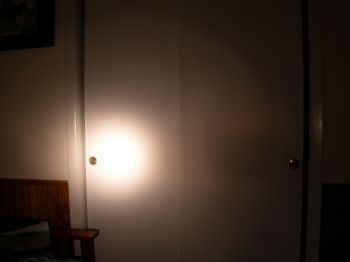 (The Maxfire in a completely dark room; the light is so bright on the white door it darkened the edges of the picture. The room is completely lit up.)
The package says this light is 12 times brighter than an AA flashlight. I compared this light to the much more expensive Surefire Aviator A2 which belonged to a co-worker.


Max Output: Xenon: 50 lumens/LED: 3 lumens Runtime: 60 minutes/20 hours
Price: $195.00
The Maxfire was as bright if not slightly brighter than the Aviator.
Shock Resistance
I dropped the light from heights of 5 feet to approximately 35 feet (threw it in the air) with no problems. Next I threw the light against a wall (drywall material) several times with no problems. Lastly, I held the light in a grip one might use when striking down on an opponent from an overhead position. From this overhead position I struck a wooden night stand with the light hard enough to make a good impression in the wood surface with the face of the light (hope the wife doesn't notice). Again, there were no problems with the light which was illuminated throughout this test.
Water Resistance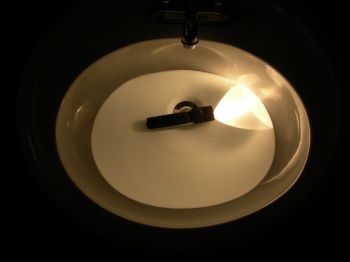 I filled a bathroom sink with water, turned on the light and dropped it in. The light does not float at all. I left the light sitting on the bottom of the sink for 10 minutes with no problems. Afterward I opened up the light to check for water intrusion and found none. The light connections have simple o-rings. I doubt you could scuba dive with this light but getting it wet won't hurt it at all.
Run Time
I placed new batteries in the light and turned it on. I then kept it in sight until it died. The package does not advertise a continuous run time, but similarly powered lights using 2 lithium batteries usually advertise a run time of about 1 hour. The Maxfire ran solid for 70-75 minutes. I began to notice a decrease in intensity at right about an hour, but the light was still usable. At about 80 minutes the intensity really started to decrease. At almost exactly 90 minutes the light died completely.
I am acquainted with neither Brinkman nor Walmart. Having a job which requires me to use flashlights daily I need to have a quality light. My employer does provide the more expensive tactical lights, but a good back up is a must (the batteries always die at the most inopportune time).
Having played around with this light I think it is a decent quality, cheap alternative to the more expensive "brand name" tactical lights.
Templar
---
www.alpharubicon.com
All materials at this site not otherwise credited are Copyright © 1996 - 2006 Trip Williams. All rights reserved. May be reproduced for personal use only. Use of any material contained herein is subject to stated terms or written permission.