Maxon HCB-30A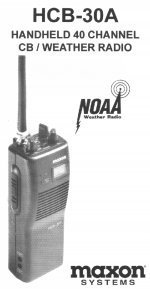 When you are in the field, sometimes it is helpful to listen to locals of the area talking. You can get info and news on many areas just by listening to the CB traffic. With this in mind, we sometimes use handheld walkie talkies for field use instead of Ham or "talk-about" radios.

Maxon's HCB-30A Handheld 40 channel CB/Weather radio has become a mainstay of the Alpha Team. These digital display radios are tough and well built. When looking at the circuit boards "QUALITY" came first to my mind. These radio accept the optional Maxon "ear buds" and "VOX microphone system" which allows you to wear it on patrols and talk without having to push a button. True hands free operation! Maxon radios also have the Hi/Low power selector switch for low wattage or high wattage output. They are powered by 8 alkalines or 10 nicad batteries and have charging jacks and alternate power jacks built in. An Alternate antenna can be used for longer range comms when the standard "Rubber Ducky" antenna isn't enough.

In Survival we know that carrying one piece of equipment that will do several things is much better usually than carrying many items that do just one thing. If you are going to carry a CB radio anyway you might as well get a little extra.In addition to the regular 40 CB channels, The Maxon HCB-30A also gives you all three NOAA weather channels. Many times in West Virginia we would go out into the field to be dropped off and the last we heard before leaving was that there MIGHT be some bad weather.... many times we ended up tent-bound in blizzards. Now while you are in the field you can keep up with with weather as it changes!



The Down Side:
We have learned that these Radios are now discontinued and Maxon has replaced them with a similar radio for about $90.00. We haven't tested these yet, but we believe in Maxon's quality reputation. As of this writing (16 July 1999) The Maxon HCB-30As are still available at Rex Electronics Stores, from The sportsman's Guide and from National Electronics online for under $40.00!!!!!! We went ahead and bought two more at that price!

The Hands free jack accessories must come from Maxon, the Radio Shack accessories don't work in it even though it will plug in (We have a modification online in the Rubicon's electronics area that will solve this little problem. Click here to see the mod).

Would WE Buy It?:
Yes, and we have purchased many... you will not believe the price on these great little units.. usually under 50 bux!!!!!!!

Technical Specs:
Dimensions: 7-1/4"L x 2-7/8" W x 1-15/16"D
Weight: 12.5oz
CB channels: 40
Weather channels: 3
CB frequency range: 26.965 to 27.405 MHz
Weather freqs: 1=162.550MHz, 2=162.400MHz, 3=162.475MHz
Operating temerature -30C to +50C (-22F to 122F)

OTHER:
None

---

Return To Product Reviews Page

---

Return to The Alpha Group Web Page

---


Send Warlord E-mail.
Address:

All materials at this site not otherwise credited are Copyright © 1996, 1997, 1998, 1999, 2000 Trip Williams. All rights reserved. May be reproduced for personal use only. Use of any material contained herein is subject to stated terms or written permission.