*Maxpedition-Condor II Hydration Backpack*


Hard Use Gear
By: Sgt. Splatter
31 January 2011

Over the last two years have had the chance to use a hard-use gear. The Condor II hydration backpack (#0512) I've been using Condor II is just the right size for every day use in Calgary back and forth from work on the train and bus 2hrs one way and 3 to 4 day hikes. Overall the pack is held up very well and stitch work is high end in the design of the pack is awesome. And it has the capability of handling hydro – pack and a side arm which you can Velcro in.

The ability to add extra packs or side compartments to it is very simple and has the ability to travel through the woods and think Bush and still stay close and not getting any hangups and so that if you have to move fast through the woods and you will be able to. To install a hydra pack You unzipped the back pocket line you to access the compartment I can put in a 2 L hydro-pack . It also has 2 drainage holes. I installed a new first aid pack on the outside this only took me seconds to slide through the Hook & Loops

The Wide shoulder straps are well padded high breath ability backing so if you do have a heavy load they are not cutting into your shoulders and keep you cool. Also has a waist belt that you can use or not use depending on the weight of your pack.

This pack has a variety of points to attach extra gear onto bags carbiners. Over all I wood recommended this pack to all for 3 to 5 day camping depending on your needs. You got what you pay for and for this you get more a lote more this topnotch pack.

The dimensions of pack are:
17.5"(H) x 14"(W) x 6.5"(D) Main Compartment
5.5"(H) x 9"(W) x 2"(D) Upper Front Pouch
8"(H) x 9"(W) x 2.5"(D) Lower Front Pouch
Overall Capacity: 1950 cu. in. / 32 L
Hydration: Fits up to 100 oz / 3L Reservoir (sold separately)
Support: 1" Sternum Strap, 1.5" Waist Strap
Optional accessories: Hook & Loop Modular Accessories and Grimloc
Carabiner
Empty Weight: 47.8 oz.
As you can see on the front of the pack there is a lower large pocket and upper pocket inside to lower compartment and the ability to pens and you have a key clip. You also have a compression strap on the front. And a number of the hook loops on the front.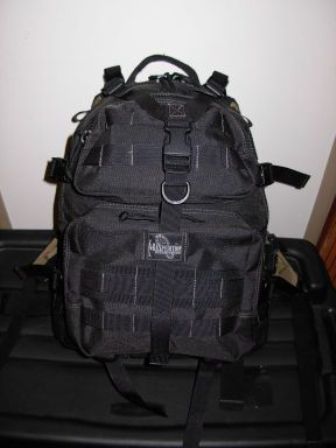 On the sides we have two more compression straps and another six hook.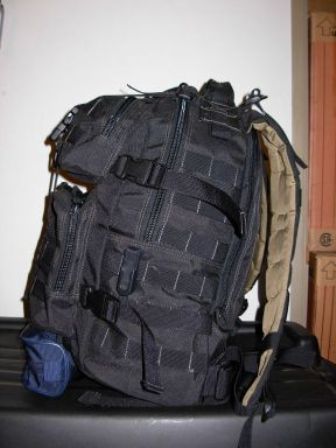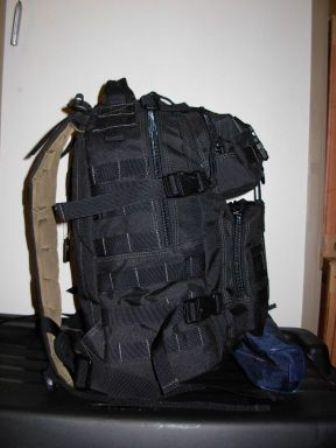 As you see the soldier straps we have adjustable strap 2-D brings and adjustable shoulder straps the back patting is more than efficient for three or four day hike and with the shoulder straps had no cutting into my shoulders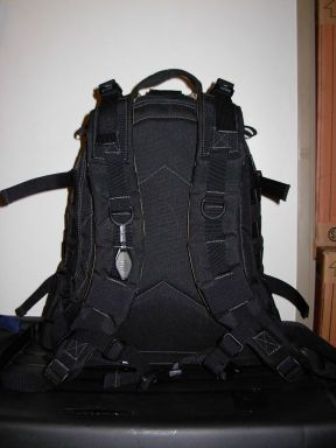 As for the top of the pack and very well stitched handle and access to Hydro pack to bring tube out.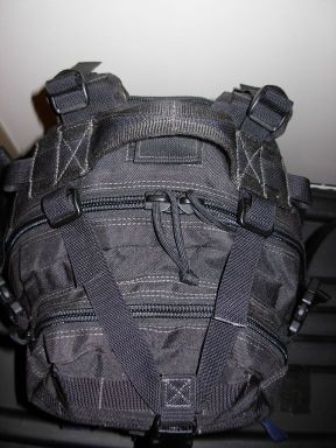 To the base of the pack nears the ability to strap rope or jacket. The heavy material on the bottom works good on gravel and saves wear and tear on the fabric.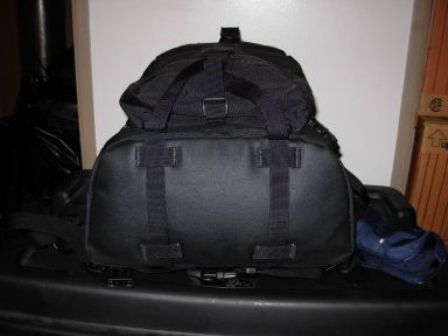 On the main compartment you have a super mesh compartment on the back for extra storage and another slip pocket for maps or other things.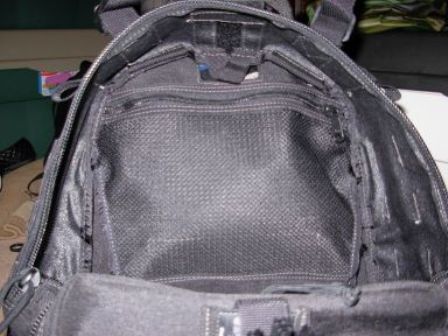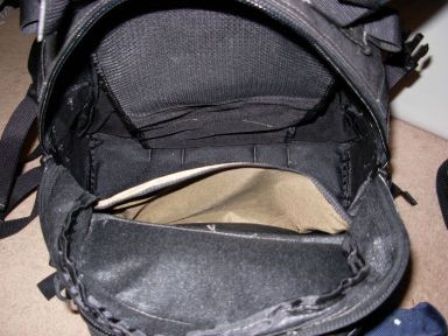 Right against your back there is another compartment this could be for your Hydra pack more your side arm this has the ability to Velcro your weapon inside. I also see the ability to put in a Kevlar plate.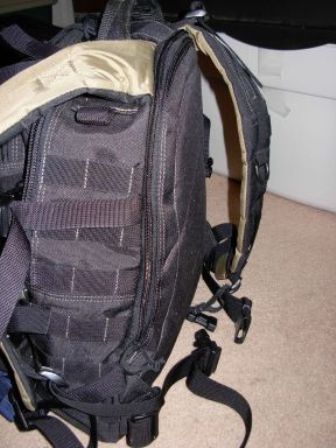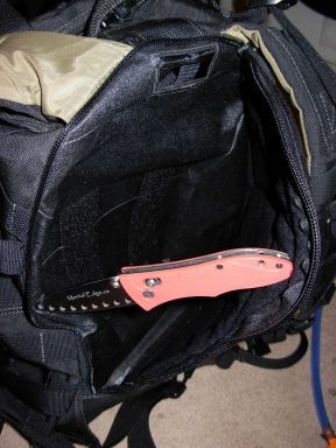 As you can see what a shoulder strap to pull back you can see two grommets at the bottom for drainage.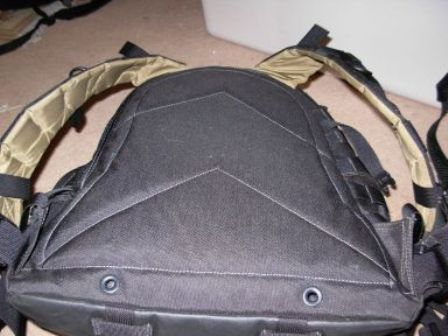 The zippers are YKK #10 all the way around.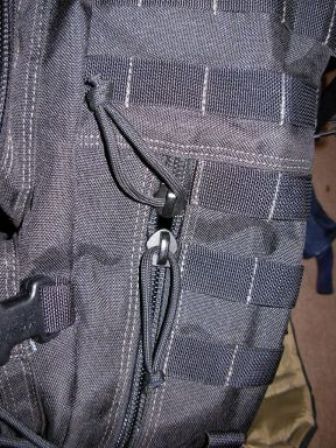 Just to look at stitch work on the top even when you look at the other pics all way around this is top notch you had to drag somebody with this pack you can.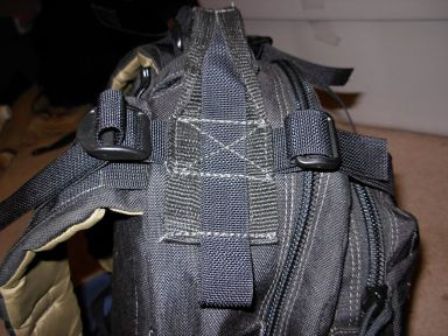 The ability to add extra compartments as a first aid kit is very simple I have here a 511 first aid kit. This kit comes with its own so (Tac Tie) you have the ability to lock it on to your pack. If you're extra packs do not have the ability you can have extra (Tac Tie) to attach other gear.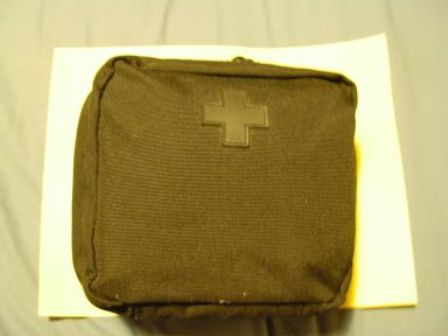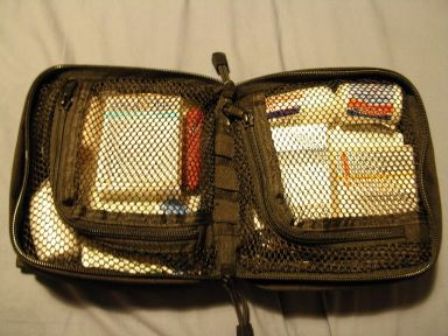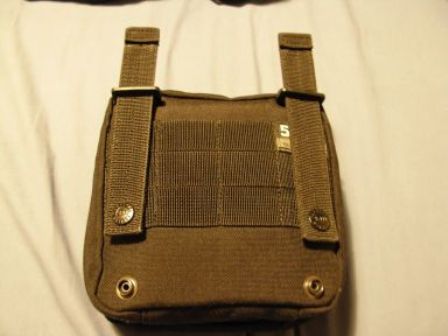 All you do is unSnap the ties slide through the webbing and reattach.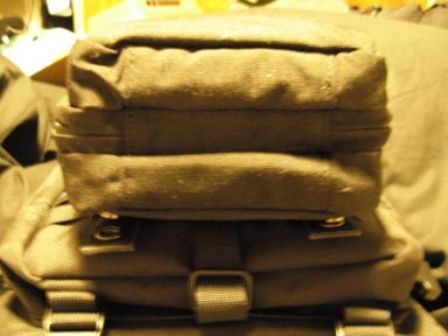 If you do not have the ties you can get some 5 inches and 3 inches I have three-inch in this pic that I can show you how to install.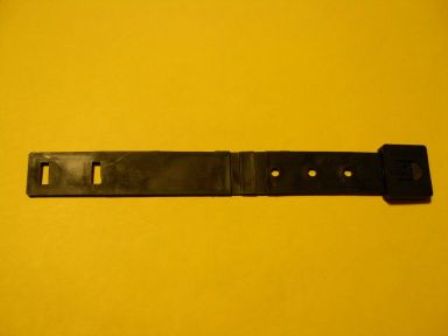 He folded over and slide it through to lock it in place but before you do this you attach to your web gear and then lock it.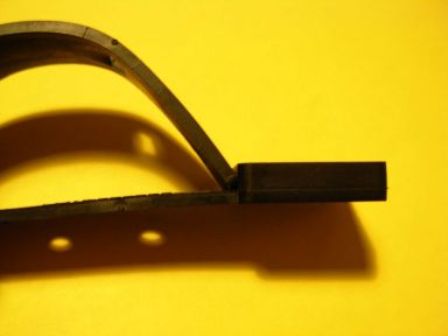 To release the tap lift up and pull back the slaughter you to reopen the ties.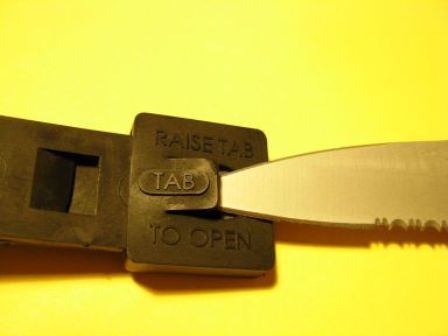 Here is a pic sliding through the web gear.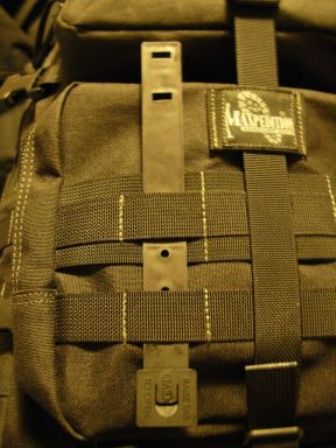 Then you can install your extra gear and lock in place.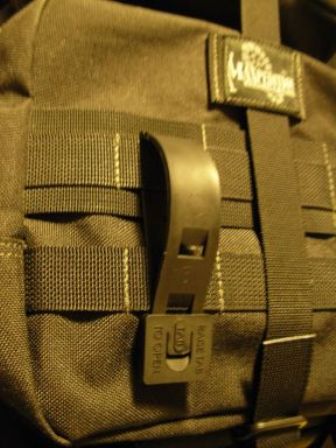 Sgt. Splatter
---
www.alpharubicon.com
All materials at this site not otherwise credited are Copyright © 1996 - 2011 Trip Williams. All rights reserved. May be reproduced for personal use only. Use of any material contained herein is subject to stated terms or written permission.