Newpoint "Surge Manager"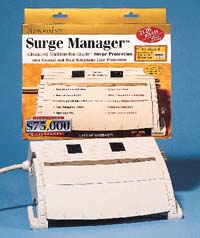 Newpoint has come out with a "personal Computer-grade" Surge protection system that is nothing short of fantastic. This unit, the Model A101T, solves a LOT of the problems PC users have with cords and plug-ins while offering the outstanding protection of a Newpoint surge protector. Routing guides allow you to run the loose cords neatly out of the unit... no more tangled cords!!!!!!

The Newpoint A101T has a flip-up cover on the front of the unit that protects 6 outlets from sticking directly out of the sockets. On top of the unit you find two more widely spaced Plugs-ins for those pesky "AC Adapter" type plugs that always seem to cover up TWO plug spaces when you are forced to use them. This problem is now history thanks to Newpoint.

Of course this unit has the great protection you've come to expect from anything carrying the Newpoint name. The Phone line protection is a given with this unit and I won't even bother going into the 20 to 1 EMI/RFI Noise Reduction, or the fact that ALL THREE power paths are protected by their own circuit. Let's just say, this is NOT your run-of-the-mill surge protector. Call your local power company and ask to speak to an engineer... he will delicately tell you that he has no faith in surge protectors, the majority of them are next to useless. That was my stance on surge protectors for MANY years... until I dissected my first Newpoint. They are so sure of their protection ability they guarantee this unit with $35,000 of lightning insurance. Find another surge manager that does that!

Let me say this to everyone reading... just some free common sense advice from an Electrical Engineer (You don't get much free stuff from us, so pay attention). IF you have an electrical product in your home that does NOT have the Underwriters Laboratories UL seal on it... get up right now, unplug it, and get it the hell out of your house! It is a fire waiting to happen. By having a non UL listed electrical product in your home, you may even violate your Homeowner's insurance policy. The Newpoint Surge manager is not only UL listed, it EXCEEDS the Underwriter's Laboratories best surge rating of 330 volts!!!!!!!



The Down Side:
Didn't find a down side to this one! Excellent product!

Would WE Buy It?:
Yup, as a matter of fact, we are getting 3 for Christmas presents.

Technical Specs:
8 power outlets with a 6 foot cord,
15 ampere rated circuit beaker 120 volts, 60 Hz, 1800 watts
Maximum energy dissipation: 910 Joules
20 to 1 reduction of EMI/RMI noise
-20dB to -45dB from 550KHz to 100MHz!!!!
Clamping response time: Less than 1 nanosecond
Maximum transient current: 56,000 amperes
Dimensions: 2.25"Height x 11.38"Length x 7.13"Width

OTHER:
be SURE to go to their web page at:
http://www.newpoint.com/ and look around, it's a VERY interesting site!!! Read the surge protection stories from customers!

---

Return To Product Reviews Page

---

Return to The Alpha Group Web Page

---


Send Warlord E-mail.
Address:

All materials at this site not otherwise credited are Copyright © 1996, 1997, 1998, 1999, 2000 Trip Williams. All rights reserved. May be reproduced for personal use only. Use of any material contained herein is subject to stated terms or written permission.