*Dustless Drywall Taping Compound*
By: mysticraven
07 June 2011
I know that most would probably not consider home repair or renovations part of your everyday prep or survival project. You might, however, need to install or repair drywall if you are finishing a safe room, hiding a gun cabinet, or simply preparing to sell and move to greener pastures.
The installation and taping of drywall is definitely not one of my favorite pastimes. Also, Iím by no means a professional and must confess to many hours of dusty sanding over the years. There is a relatively new product on the market called dustless taping compound. Call me skeptical, but my project was right next to the recently painted living room, so I bought a pail. The dustless compound has a different texture then the regular stuff. It seems perhaps coarser and slightly heavier in weight. It is easy to work with and trowels to a smooth (for me) finish.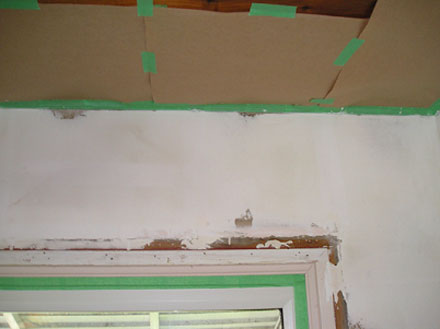 Easy to work with... Trowels to a smooth (for me) finish...
I did not have any heavy patches but it still seemed to take a little longer to dry, even with a fan moving the air around. Once dry, the patch or taped area was slightly softer to the touch. It simply did not seem as hard as the regular taping compound. The real test was yet to come. How does it sand? It passed the dust test with flying colors. As advertised, the sanding residue simply fell to the floor with a minimum of clean up and no dust mask. The slightly softer texture made it much easier to sand.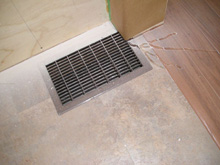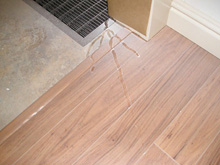 Passed the dust test with flying colors...
As you can see by the above pictures, the dust simply fell to the floor next to the wall and did not travel very far on the new living room flooring. I did not take any pictures but the wall primed and painted normally. The new compound produced an almost professional finish with a minimum of work.
I would not hesitate to recommend or use this product again.
mysticraven
---
www.alpharubicon.com
All materials at this site not otherwise credited are Copyright © 1996 - 2011 Trip Williams. All rights reserved. May be reproduced for personal use only. Use of any material contained herein is subject to stated terms or written permission.