Outdoor Specialties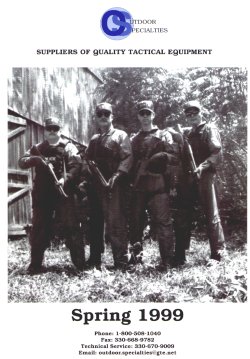 If you are like us, you need your equipment to work 100% of the time. When the bottom drops out of a bad situation there are only two things that are gonna save your butt: your training and the reliability of your equipment! This is an undisputed simple fact! These are two areas that CAN NOT fail, or you are just another name carved on a granite headstone.

Enter Outdoor Specialties. You that know we here at Alpha know that we don't pull punches with our teammates, our equipment, or anything else. You also know we are not paid a single dime for the several hours each of these reviews takes us to do. We do them SOLELY because we believe in the product, or company, and that what they have will benefit the survival community. We rate based on quality, reliability, and several other factors... again, enter Outdoor Specialities.

The Owner of this company frequents our websites and message boards, he believes in quality... doesn't matter if it's in their training classes or their equipment. They don't peddle junk of any sort, nor do they tolerate it in their business in anyway. This company is committed to the tactical professional, military, police or the survivalist. They have everything from training, to books and videos, top quality gear, accessories and most importantly experience! When you need SERIOUS QUALITY, Outdoor Specialties is the place to turn. You won't find any "blinking blue light specials", but you will find the best quality available anywhere, at any price.



The Down Side:
None, this company is wrapped up tight. Definitely "High speed / Low drag"!

Would WE Buy From Them?:
Yes, the owner is a man of old fashioned values. He's the "been there, done that" type who instills confidence. He's very honest and straight forward and I think he would rather lose a sale than sell you something you didn't need just to make a buck. He's just that kinda guy.

Technical Specs:
Phone Numbers:

Sales Number is 1-800-508-1040
Service is 330-670-9009
Fax 330-668-9782

Address:

Outdoor Specialties
P.O. Box 5103
Akron, Ohio 44334

Or Visit their new web site at http://odspec.com/indexa.html

OTHER:
See other reviews in this area on Outdoor Specialties equipment!!!!


---

Return To Product Reviews Page

---

Return to The Alpha Group Web Page

---


Send Warlord E-mail.
Address:

All materials at this site not otherwise credited are Copyright © 1996, 1997, 1998, 1999, 2000 Trip Williams. All rights reserved. May be reproduced for personal use only. Use of any material contained herein is subject to stated terms or written permission.