PokerFace
Sex, Lies & Politiks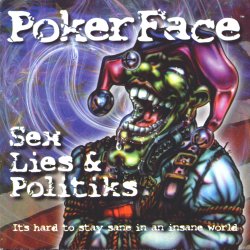 I ordered the new Pokerface CD, Sex, Lies and Politiks last week and got it in the mail today... the whole CD ROCKS!!!!!!!!!!! These aren't long, drawn out, rambling "freedom folk songs", it's rock with a political message imbedded inside a cutting edge!

The CD cover is a newsletter in itself, plus they send you a newsletter in the package. This one included info about Echelon. Want more information? It's included right there on the CD! Just use Windows explorer to open the CD and watch... Movies, Bios, Facts and more! The CD even comes with the newest "quicktime" so you can enjoy other online movies.

Paul Topete is "one of us"... in fact he's on the Rubicon message board here as "pokerkid". He's committed to this struggle perhaps more than even we are. Like all TRUE patriots, Pokerface puts their life and money where their beliefs are. The music is what introduced Paul and I, and I believe in his message (you will too).

You can now order Pokerface's CDs online (The Website was JUST updated!). Grab a cup of your favorite caffeinated beverage and spend an hour on their EXTENSIVE Music and info site at:
www.pokerface.com
and/or their political website at:
www.pokerface.org

Their websites are top quality, they've spent a bundle on them to inform YOU about the struggle to regain our liberties, it's not filled with hype or paranoia, just plan documented FACT.

It's inspiring to hear professionals put our struggle to music.
This is my favorite!

Rather Die than be your Slave

I do not wish this life to pass away
But life presents such possibilities - (each and every day)
I heard a calling that was right for me
I prayed for strength for what's ahead of me-
(Please show me the way)

The sun rose high and burnt the night away
Who stood before me was my enemy - (Don't tread on me)
He's come to take away my liberties
I'd rather die than be a slave to thee - (don't treat me this way!)

Chorus: I'd rather die than be your slave
I will survive, and you'll feel my rage
it's not a question, of being brave
I'd just rather die, than be your slave.

Chorus

It didn't matter who shot first that day
They killed my brothers, they laid dead by me-
(I'm covered in their blood)
We hit them hard we made them pay that day
We hung the traitors from the highest trees -
(no mercy from me!)

We lost a lot our pain was heavy
We sacrificed for GOD and Country - (no more colony)
Still held the ground that was in front of me
This was our price to pay for liberty - Still you hear me say

Chorus

Much time has passed, we repeat history
Our toys have changed while man has stayed the same -
(Evil in his ways)
Tribal families rule not over me
I will not let them rape our liberties - We'll die for them today

Poker Dudes ASCAP © 1999

The chorus says it all!


Technical Specs:
Top Quality CD sound

Excellent music without that "trying to fit a protest to music" quality that dooms many other bands to failure.

12 excellent songs

Movies and information are also on the music CD (along with the Constitution of the United States, and George Washington's vision), just use Windows explorer to click on your CD drive for the interactive stuff, then when you're done, sit back, close your eyes and listen to the truth unfold.

---

Return To Product Reviews Page

---

Return to The Alpha Group Web Page

---


Send Warlord E-mail.
Address:

All materials at this site not otherwise credited are Copyright © 1996, 1997, 1998, 1999, 2000 Trip Williams. All rights reserved. May be reproduced for personal use only. Use of any material contained herein is subject to stated terms or written permission.