Restraint And Control
For Security Industry Professionals
by:Gary Fliegner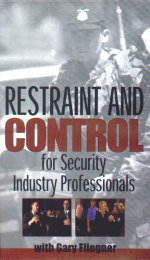 If action and adventure are what you want from a video, skip this one. But if you want PROFESSIONAL tactics for restraining problem people, then get this one!

I was impressed that this Video actually held true to it's name with no hype. It goes through various situations, and STRESSES talking yourself out of trouble. It shows how to restrain people without getting hurt, and without hurting the other guy. That's important! Court time is no fun at all when you get sued by the meek, well dressed gentleman in court, who was a drunken raving maniac last week in the club.

If you're looking to enhance your knowledge and career in the Security industry, consider this tape an investment in your future!



Technical Specs:
Quality Video, VHS Color Approximately 60 minutes

OTHER:
You can order this Video directly from Paladin Press at their website. To visit the Paladin Press web site, or read more about Restraint and Control For Security Industry Professionals just click on the addy below!
http://www.paladin-press.com

---

Return To Product Reviews Page

---

Return to The Alpha Group Web Page

---


Send Warlord E-mail.
Address:

All materials at this site not otherwise credited are Copyright © 1996, 1997, 1998, 1999, 2000 Trip Williams. All rights reserved. May be reproduced for personal use only. Use of any material contained herein is subject to stated terms or written permission.