*Product Review: Garmin Rino 130 GPS*
By Palindrome
29 November 2006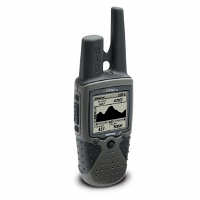 The Garmin Rino 130 GPS is one of the coolest gadgets that I've ever had the opportunity to own. It has an amazing array of features built into a single device. Some of the features include an integrated FRS/GMRS radio, electronic compass, barometric sensor/altimeter, weather receiver for 7 NOAA channels, trip computer, Peer-to-peer positioning and text messaging to other Rino's, calendar, alarm clock, stop watch, sun/moon calendar, hunting and fishing times, and more. In the following pages, I'll try to go through the main features and hopefully offer some good feedback that might help anyone thinking about purchasing a Rino. We'll start off with some of the basic features and work our way up to the more interesting ones.
Basemaps and Available Software:
The Rino 130 comes with a detailed basemap of North and South American, displaying cities, highways, railways, rivers, lakes, and borders. But if you really want to get the most out of it, you should get U.S. Topo, MetroGuide or other Garmin MapSource software for your PC so you can store the more detailed map data on the GPS. If you are unfamiliar with the software, U.S. Topo provides digital 1:100,000 USGS topographic maps with many many points of interest, such as, highways, roads, hiking trails, snowmobile trails, backwoods trails, elevation contours, point elevations, summits, some bathymetric contours, geographic names, churches, schools, reservoirs, dams, marinas, campgrounds, public facilities, mile markers, first-aid stations, picnic areas, swimming, and ski areas, fuel, shipwrecks, and more. U.S. Topo is probably more useful for hikers, campers, outdoor enthusiasts or survivalists.
The MetroGuide, on the other hand, provides nearly 6 million metropolitan points of interest, including food and drink places, lodging, attractions, entertainment, shopping, emergency services, post offices, camp grounds, movie theaters and more. You can also plug your Rino into a laptop and get point-to-point navigation with speech, just like with in-car navigation systems. But, both are great additions to have. They definitely add a lot of value to the package. The software allows you to save your waypoint, tracks and routes to your PC so that you can view them on your PC or you can just save your recorded data to make room on the GPS for new waypoints, etc. The software can be a little expensive, but you can find good deals out there on eBay and such, but the cost is well worth it.
Included, and Optional Accessories:
Out of the box, the Rino 130 comes with a PC-interface cable (Serial), Wrist strap, belt clip, user's manual, quick reference guide and the Marine Point Database and Americas Highway Basemap factory installed onto the GPS.
There are also many optional accessories available like NiMH battery packs, suction cup and handlebar mounts, 12-volt adapter, USB to RS232 converter cable for those that have computers lacking serial ports, cigarette lighter adapter, bash guards, headset with boom mic, Ear receiver w/PTT microphone, and other knickknacks of that sort.
Price:
The Suggested Retail Price for the Rino 130 is $374.99, but I have seen them for as low as $259. And I'm sure you can get them at an even better deal on eBay.
Some Basic Features:
The Rino 130 has 24MBs of internal memory, which isn't the most on the market, but it does the job. I haven't had any problems exceeding capacity yet. Especially since I can offload a lot of the captured data onto a PC for long-term storage. The unit can store up to 500 waypoints, with choosable graphic icons and 20 reversible routes, and 10,000 track points and up to 20 saved tracks to retrace user's path or companion's path via location-reporting feature.
The case is Waterproof to IPX-7 standards (immersible in one meter of water for up to 30 minutes). And it floats. I don't think I've dumped it in the drink yet, but I have hiked in the rain without a problem.
And one of the best non-features of the 130 is it's ergonomic design for one-handed operation. You can do everything you need to do with one hand. It is very intuitive and user friendly. That's what really makes this a great product. There's nothing worse than spending hundreds of dollars on some gadget that is a nightmare to use.
Battery life is estimated at 14 hours (typical use) on three AA alkaline batteries. More on this later...
GPS:
The Rino 130 has a 12-channel, WAAS-enabled GPS receiver. In rough terrain, it can sometimes take a minute or so to initialize with the satellites, but if you have an unobstructed view of the sky, it usually only takes a few seconds. It does a pretty good job of keeping a satellite signal even when going through a tall tree line, but you do tend to loose the signal if it gets too dense. Compared to my friend's eTrex though, the Rino was much more reliable at maintaining a satellite signal in these areas. I think that the external GPS antenna probably has something to do with this. Satellite signal tracking can be monitored on the Satellite page, as seen below: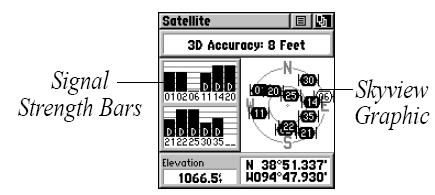 Trip Computer:
The Trip Computer can be pretty useful and shows average speed, sunrise/sunset read out, trip time, trip distance, and coordinates.
Calendar:
I don't use this feature too often, but it's a neat feature that Garmin built into it. The calendar provides you with a monthly calendar that you can program with reference notes. The days that are shaded on the calendar have notes associated with them. You can record 100 notes with up to 18 characters each.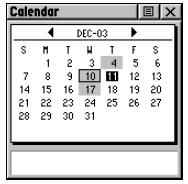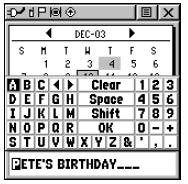 Alarm Clock:
This feature provides an alarm for the system clock. I don't use this feature too much either since the unit must be on for the alarm clock to work. With the limited battery life, I don't want to keep it on all night just for waking up in the morning, but it is useful at times when you already have it on, like for alerting you when you need to go home and what not.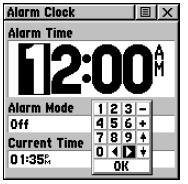 Calculator:
This feature provides you with all the basic functions of both of standard or scientific calculator. This is great for those pesky math problems that come up in the outdoors.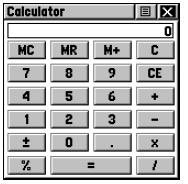 Stopwatch:
This feature allows you to use the unit as a stopwatch and lap timer. You can also have the unit record the lap time based on distance. For example, if you set the lap distance to one mile, the unit records the time it takes you to travel one mile.
Sun & Moon:
This feature provides you with a graphic display of both sun and moon positioning for a certain date, time and location with times for sunrise, sunset, moonrise, and moonset. This is a great feature because you can easily and accurately calculate when legal shooting times are for game by subtracting 30 minutes from sunrise time and by adding 30 minutes to the sunset time.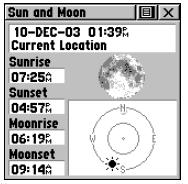 Hunt & Fish:
Another cool feature. The Hunt & Fish page provides you with a listing of best times for hunting and fishing for a chosen location and date.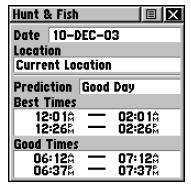 Electronic Compass :
The Navigation Page provides an electronic compass that can also be used for navigation to stored destinations. This provides active guidance with the rotating compass ring which shows your course (track) while you are moving and there is a bearing pointer to indicate the current direction to your destination (bearing) relative to the course. The Data Field at the top of the page, by default shows you the name of your destination. All five Data Fields can be programmed to display a variety of navigation data. When you are moving, the heading is controlled by the GPS receiver, but the Compass Ring functions as a magnetic compass when you are stationary. This is nice because it allows you to get a bearing standing still while most GPS's require you to be moving in order to see what direction you are heading. The compass can also be maximized to take up the whole display when you don't need to see the data fields.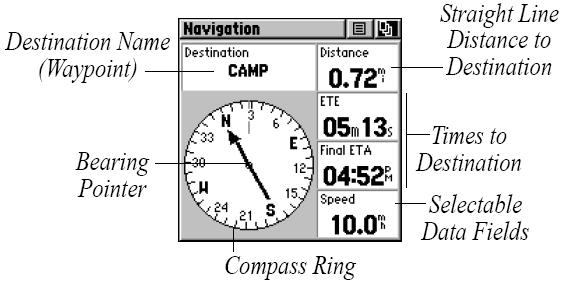 Altimeter/Barometric Sensor :
The barometric sensor is pretty handy as well. It records and plots your elevation/pressure readings over a period of time.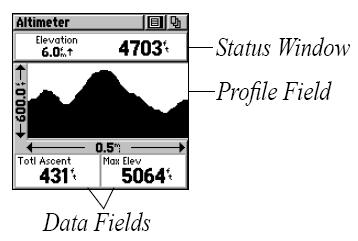 The Radio:
The Rino has a built-in 14-channel FRS (.5 watt) and an 8-channel GMRS (1 watt) transceiver, with a transmit distance of up to 2 miles using FRS and 5 miles with GMRS. GMRS repeater channels (15R-22R) are also available in the U.S. versions. The radio was one of the features that sold it for me. I was getting tired of carrying a GPS and an FRS radio. Having to juggle devices usually just made me not want to use them at all. It is so convenient to be able to have both in this one device. It has 38 sub-audible squelch codes (CTCSS) per channel which provides some room for semi-private radio communications. It has VOX and there are optional headsets that you can get for hands-free use. There is a scan function that allows you to scan the available channels for voice activity. There are also many tones available that can enabled or disabled, like the Roger tone, which will sound a tone when the talk button is released. The ring tone can sound when an incoming transmission is received, but it only does this the first new transmission and will not sound again until there has been 45 seconds of radio inactivity. The ring tone can also be set to vibrate so you don't alert anyone or anything to your presence nearby.
The weather radio is another fine feature that I really like and use often. You can get a constant update of the weather conditions, which I find really helpful in the outdoors, especially when weather is questionable.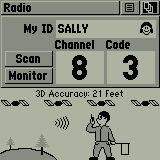 The coolest and most unique feature available on the Rino 130 is the Peer-to-peer positioning. This allows you to send your location to other Rino users, and vice-versa, using the integrated FRS/GMRS radios. This allows you to track the movement of other Rino users and to even navigate to their location. You can also personalize how you appear on other Rino users' maps by configuring your name and choosing from a variety of different icons to represent your location. The Rino can handle up to 50 contacts at any time. Each time a signal is received from a contact, the New Contact page is displayed showing the ID, direction, and distance to the sender. The sender's new position is then updated on the receiving unit's map page. The Rino automatically sends out its location whenever you press and release either the Call button or the Talk button. This information is available to all other Rino users that are monitoring the same channel and squelch code. Locations may only be sent once every 30 seconds due to FCC restrictions, but your Rino can respond to polling requests from other units more frequently. You can also manually poll the GPS location of other Rino users. And another useful feature is the ability to send a specific location to other Rino users. This comes in handy when you want to meet at a specific location. And of coarse, you can also disable this feature all together if you want to be discreet.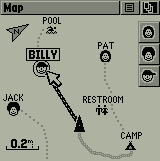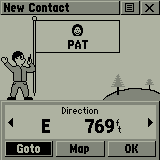 A friend of mine also has a Rino 130 and we use them all the time for hunting. This feature really comes in handy when we split up on our hunts. Not only for informational purposes, but for safety as well. It's kind of nice to know where your buddies are so you don't shoot in their direction and vice-versa. This isn't a replacement for normal safety practices, but it's nice to have. This could also be a life-saving feature in outdoor emergencies, or it could be used simply for rounding up the family at your favorite outdoor retreat. I believe that this feature would be very useful in SAR (Search And Rescue) operations as well.
Track Log:
The Track Log basically draws an electronic bread crumb trail on the Map Page as you travel along and contains all sorts of information about points along its path, including time, and position. You can use this information to allow you to navigate using the saved track and you can even save tracks from other Rino users as they communicate with you.
Proximity Alarm:
The proximity alarm is a really cool feature which lets you define an alarm circle around a stored waypoint/contact position. This can be used to help you avoid dangerous areas or to alert you when you have strayed too far away from other Rino users. Up to ten waypoints may be listed, with a maximum alarm radius of 99.99 nautical or statute miles or kilometers. If entering a proximity alarm circle, a "Near Proximity Point <name>" message appears. If leaving a proximity alarm circle, a "Leaving Proximity Point <name>" message appears.
Games:
The Rino 130 even has 5 multi-player games that you can play with other Rino users. Each player only needs to be on the same channel/squelch code to play.
Final Comments:
Overall, I have been very happy with this product, but there are a couple things that I wasn't completely satisfied with. For one thing, the interface that you use to connect to a PC is serial, which is very slow when uploading maps to the unit. It can take up to 20 minutes sometimes to upload maps if you selected a lot of grids to put on there. I really wish they had made a USB interface for this.
The battery life is also less, in my experience, than what they estimate. They estimate that battery life at 14 hours with typical use. I'm not sure what "typical use" means, but my batteries only seem to last 8-10 hours with standard Energizer or Duracell batteries. Another thing that bothers me is that the batteries get drained even when the unit is turned off. It isn't a fast drain, but if you leave them in there for a month while you aren't using it, they'll probably be dead when you go to use them. So I usually have to go through the minor annoyance of removing the batteries after every use.
My final complaint concerns the battery cover. For some reason, the battery cover latch on at the bottom of the unit isn't very sturdy. The corners of the latch broke off so it can no longer latch on to lock in place. Well, This could be a result of the unit sliding off my dashboard and crashing onto the floor numerous times in my car, LOL, but it seemed to break too easily to me. They made everything else on the case so durable, I just don't understand why they didn't re-enforce the battery cover a little better. I'm sure I could have prevented this problem all together by getting a suction cup mount for the car or bash guards for it, but live and learn. My friend bought bash guards for his Rino and hasn't had any problems yet, so I think that is the way to go. I plan on getting mine in the near future. But, luckily, I called Garmin about the broken battery cover and, to my satisfaction, they offered to send me a new one free of charge. :)
So, if you already own a Rino 130 and, by chance, need a replacement cover, you can contact them at the address or phone numbers below for a replacement.
GARMIN International
1200 E. 151st Street
Olathe, KS 66062 USA
http://www.garmin.com
800/800.1020
913/397.8200
Well, I hope this provided some useful information to anyone thinking about buying a Rino 130. I only gave brief descriptions of the features and specifications of the Rino 130, so if you would like more details on it, you can probably find what you are looking for in the Garmin Rino 130 User's Manual.
Also, If you already own or end up purchasing a Rino 130, you download updates to the Rino's Operating System here.
Palindrome

---
www.alpharubicon.com
All materials at this site not otherwise credited are Copyright © 1996-2006 Trip Williams. All rights reserved. May be reproduced for personal use only. Use of any material contained herein is subject to stated terms or written permission.